Rouhani move over WhatsApp ban reveals Iran power struggle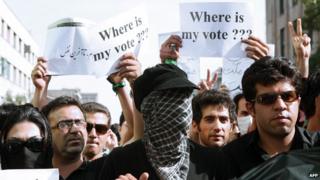 Iranian President Hassan Rouhani has become embroiled in an unprecedented row over internet censorship, after he intervened to prevent the blocking of the mobile messaging service WhatsApp.
WhatsApp is popular among young Iranians who see it as a relatively secure and cheap way of keeping in touch.
However earlier this month the state committee responsible for web filtering announced that it was planning to ban the application.
A rival messaging application, WeChat, was blocked last year.
Facebook and Twitter have been banned since 2009 when the authorities sought to crush dissent following the disputed presidential election.
Iranian web users are used to jumping from site to site as bans are imposed.
"It doesn't matter if they filter WhatsApp," a Twitter used called Pedram, wrote to BBC Persian's interactive programme Your Turn. "We can find tens of new applications each day."
Rift exposed
The Committee for Determining Criminal Web Content, which proposed the WhatsApp ban, is part of Iran's powerful judicial system.
President Rouhani's decision to challenge it has exposed a rift in the establishment over who has the final say on controlling the internet.
Like many aspects of Iranian politics, the system for overseeing what is allowed online is complex.
A judiciary committee usually deals with filtering issues, and six of its members are cabinet members.
London-based Iranian web researcher Nariman Gharib, speaking to BBC Persian, was one of many to ask why none of these ministers had opposed the proposed ban.
One answer suggested by many users was that financial motives could be at stake.
Iran's national Telecommunications Company has reportedly been losing revenue because so many of its clients prefer to use foreign messaging sites.
"By using online mobile messaging services my mobile bill reduced to one third," tweeted Hamid from Iran. "Of course they will filter them!"
The secretary of the judiciary filtering committee, Abdolsamad Khorramabadialmost, made headlines around the world when he said the ban on WhatsApp was linked to its acquisition by Facebook founder Mark Zuckerberg, who he described as an "American Zionist".
However this comment has been largely dismissed in Iran with most internet users and analysts agreeing the motivation was more likely to be loss of revenue for domestic services, as well as a desire to keep all messaging sites firmly under control.
President Rouhani intervened in the issue in his capacity as head of the Supreme Council of Virtual Space.
He is quoted by the ICT minister, Mahmoud Vaezi: "In the latest meeting of Supreme Council of Virtual Space, President Rouhani ordered to stop the blocking of WhatsApp".
This body, set up by Ayatollah Khamenei three years ago, numbers the heads of the police and the Revolutionary Guards among its members.
Internet freedoms pledge
Up until now, neither the president nor the Supreme Council has chosen to intervene publicly in filtering issues.
Mr Rouhani's move was no doubt influenced by the big hopes invested in him that he would deliver change after his 2013 election victory.
He came to power pledging to reduce restrictions on internet freedom, and during his first year in office both he and senior cabinet colleagues have used officially banned social media sites to get their message across both at home and abroad.
Mr Rouhani has tacitly acknowledged that an unverified Twitter account operating under his name, is being run by people in his team.
Foreign Minister Javad Zarif has taken to both Twitter and Facebook openly to engage in debate.
Culture Minister Ali Jannati has made it clear via his Facebook page that he supports social media freedoms.
Since Mr Rouhani's election Iranian internet users have seen access lifted and restricted again to certain sites.
Observers say this reflects an ongoing conflict between different authorities, like the police, the judiciary and the telecommunications ministry, who all have the power to block access to sites.
Mr Rouhani's intervention over WhatsApp is the first major conflict to come out into the open.
But as the stand-off between hardliners and those seeking change in Iran continues, it is unlikely to be the last.