West 'misunderstood' Egypt crises - foreign minister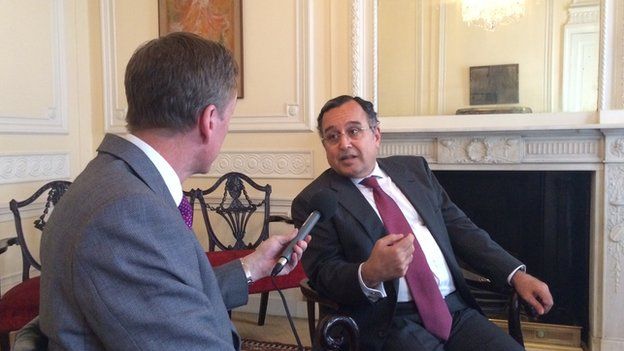 "The West risks losing the Egyptian people."
That's the warning given by Egypt's Foreign Minister Nabil Fahmy just hours ahead of his meeting on Wednesday with Britain's Foreign Secretary William Hague.
In a veiled criticism of lukewarm support from Western governments, he told the BBC the West was playing catch-up with fast-moving events in the Middle East.
He insisted that several foreign journalists accused of defamation and supporting the banned Muslim Brotherhood would get a fair trial but said his government was unable to interfere in their case.
Fresh from a meeting with Britain's National Security Adviser, Sir Kim Darroch, Mr Fahmy rejected suggestions that his country was slipping back into a repressive, autocratic state.
Of the much publicised 600 or so death sentences recently handed down to opponents, the minister said only three were active cases.
He said the detained Al-Jazeera journalists, including the former BBC reporter Peter Greste, were getting a fair trial and access to medical treatment but that, as he put it, in a democracy, his government could not intervene.
He admitted that there was "baggage" in their case over Egypt's strained relationship with Qatar, which owns the Al-Jazeera network, but said "this would not cloud the eyes of the judges".
Since the overthrow of Egypt's unpopular Muslim Brotherhood government last summer, the authorities in Cairo have been stung by international criticism over their heavy-handed tactics.
Over 16,000 opponents and others have reportedly been imprisoned, hundreds have been killed in clashes and several foreign journalists are on trial, accused of defaming the government and supporting the banned Muslim Brotherhood.
Human rights groups say the prosecution has failed to produce any credible evidence against them.
"The courts will decide," said Mr Fahmy, adding: "If they are found innocent I will be very happy to see that result."
In a BBC interview last August the minister declared: "I think any long-term [political] settlement should include the participation of the Muslim Brotherhood."
I put it to him that would be rather difficult now that it has been outlawed "as a terrorist organisation".
"The reason the government declared the Muslim Brotherhood [banned] was because of the violence in the street, the attempt to assassinate the minister of the interior, the violence against police stations, burning 60 churches, over 300 people killed," he said.
The Egyptian authorities have been widely accused themselves of killing hundreds of people while evicting Muslim Brotherhood supporters from sit-ins in Cairo in 2013.
Egypt and its allies Saudi Arabia and the UAE would like to see the organisation banned in Britain but instead No 10 has ordered a review into its activities which is expected to be completed in July.
Mr Fahmy said there was "co-ordination" between British and Egyptian intelligence agencies over the issue. The Muslim Brotherhood insists its activities are entirely peaceful and non-violent.
There was no question, the foreign minister admitted, that there was a problem with terrorism in large parts of the Sinai Peninsula, especially in the centre and the north.
But he said the government was not about to launch a major military operation there for fear of causing more bloodshed.
"The complications there are many," he said. "These are non-state parties. You can't deal with them as in an army versus an army. To resolve this quickly would mean tremendous loss of life. And we don't want to do that."
Instead, he said, the government would look for ways to help the local Bedouin population out of poverty. "We will enhance and engage the Sinai population with economic and social measures," he said, admitting that that they "had been ignored for a long time".
How would the minister categorise the so-called Arab Spring revolutions that have seen the overthrow of rulers in Tunisia, Egypt, Libya and Yemen?
"It is the birthing pains of a new democracy," said Mr Fahmy. "I accept the metaphor. I don't use it. But you Westerners have a tendency to use your own terms to describe everything that's not yours and wonder why it doesn't fit when it doesn't fit. And occasionally, you even ignore your own terms.
"Spring here in London is a turbulent season - you have four seasons in one day. The Middle East - it doesn't have spring. It has long hot summers and very short, cold winters.
"How many years did it take you to make a democracy? Three? It takes time. In 60 years - from 1952 to 2011- we had four presidents. In (the last) three years, we've had four presidents".
"We made some mistakes", he admitted, but then immediately blamed them on the Muslim Brotherhood's ill-fated year in power. "Those that gained power thought that not only did they win a mandate to govern, they won a mandate to change our identity. Which they didn't."