Iran nuclear talks resume in Vienna amid caution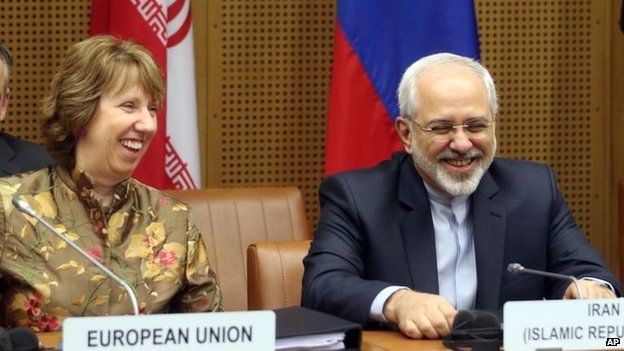 US and Iranian officials have sounded a note of caution as the talks on Iran's nuclear programme resume in Vienna.
Negotiators were expected to officially begin trying to draft an agreement that will provide a comprehensive solution to the Iranian nuclear issue.
Iran's Foreign Minister, Mohammad Javad Zarif, said a lot of effort was needed.
A senior US official meanwhile said the talks would be "very, very difficult" and there were still significant gaps between Iran and the six world powers.
Both sides are hoping to build on an interim deal agreed in November that saw Iran curb uranium enrichment in return for sanctions relief.
The so-called P5+1 - the US, UK, France, China and Russia plus Germany - want Iran to scale back its sensitive nuclear activities permanently to ensure that it cannot assemble a nuclear weapon.
But Iran says its nuclear work, which it insists is peaceful, will continue - and wants an end to the sanctions that have crippled its economy.
The interim accord, which took effect in January, gives negotiators until July to agree a long-term deal, although the deadline can be extended.
Although meetings have been held in Vienna since February, diplomats say nothing of substance has yet been agreed.
On Tuesday evening, both US and Iranian representatives tried to dampen expectations as they arrived in the Austrian capital for the latest round of talks.
"If there are differences of opinion, which definitely exist, we will spend time to resolve them," Mr Zarif told Iranian media before attending a working dinner with the EU's foreign policy chief, Catherine Ashton.
A senior US official warned against too much optimism.
"I would caution people that just because we will be drafting it certainly does not mean an agreement is imminent or that we are certain to eventually get to a resolution."
"There are a range of complicated issues to address and we do not know if Iran will be able to make the tough decisions they must to assure the world that they will not obtain a nuclear weapon and that their programme is for entirely peaceful purposes," the official added.
Diplomats say it will be very difficult to overcome differences on three key issues - Iran's uranium enrichment capacity, the heavy-water reactor at Arak, and questions about the "possible military dimensions" of Iran's nuclear programme.
A meeting between the International Atomic Energy Agency (IAEA) and Iran to discuss Tehran's past efforts to develop exploding bridge wire (EBW) detonators, which could be used in nuclear weapons, made little headway.
Iran has agreed provide the necessary clarification by Thursday, as part of a series of measures to allay the P5+1's concerns about its activities.
"If things were on track, the agency and Iran would have agreed, or would be on the cusp of agreeing, the next round of measures," one diplomat in Vienna told the AFP news agency.