Qatar: Foreign worker restrictions 'to be eased'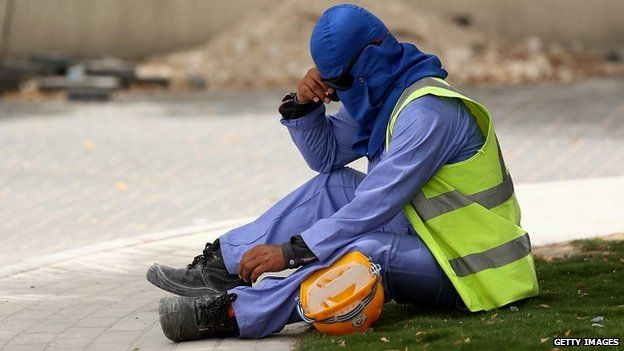 Qatar has moved to change controversial laws on foreign workers amid mounting criticism ahead of the 2022 World Cup.
The Gulf state has come under pressure to drop rules tying migrant workers to a single employer amid an influx ahead of the football tournament.
Human rights campaigners have accused Qatar's current sponsorship system of being akin to modern-day slavery.
The draft law is part of a range of proposed labour reforms but there is no timeline for their implementation.
Expatriates make up the bulk of the workforce in the country.
More than 180 migrant workers died in Qatar last year and a significant number are believed to have suffered injuries as a result of unsafe working practices.
There have also been complaints about the standard of accommodation many workers live in.
Officials announced the proposed changes at a news conference in the capital Doha on Wednesday.
They said they hoped to introduce "a system based on employment contracts" as part of a reform package.
The reforms are also designed to end the longstanding requirement that foreign workers obtain their employer's consent before leaving the country.
This received global attention after a French-Algerian footballer was forced to stay in the country for nearly two years over a dispute with Qatari club El-Jaish over unpaid wages.
Human rights groups have long urged Qatar to scrap the sponsorship system, saying it leaves workers open to exploitation and abuse.
In February, organisers of the 2022 World Cup published plans to improve the rights of workers after Fifa, world football's governing body, pushed them to do more.
UK opposition Labour MP Jim Murphy, who has campaigned for workers' rights in Qatar in his role as Shadow International Development Secretary, said the move was a "small step on a very long journey."
"It is absolutely vital that the reforms promised today are implemented quickly and fully," he added.
But Amnesty International said the proposed changes "fall far short of the fundamental changes needed to address systemic abuses against migrant workers".
Qatar is reported to be spending more than $200bn (£121bn) on a series of infrastructure projects, and says the World Cup is a catalyst for a nationwide building project.