Middle East peace talks: Kerry meets Abbas in London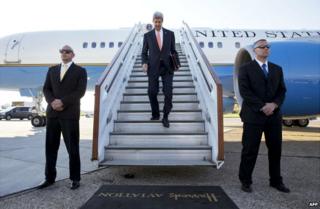 US Secretary of State John Kerry has met with the Palestinian president for the first time since peace talks with Israel collapsed last month.
The talks with Mahmoud Abbas took place at a London hotel.
A US official sought to downplay the meeting, saying Mr Kerry was in the UK for meetings on Syria and Ukraine.
Peace talks broke down last month after Israel was angered by a unity deal between rival Palestinian factions Fatah and Hamas.
Correspondents say Mr Kerry is trying to keep the Palestinian leader committed to the peace process, which fell apart after nine months of talks.
"The door remains open to the peace process. The secretary continues to believe that," a senior state department official said before Mr Kerry left Washington.
"But the purpose of the meeting is more about our ongoing relationship with the Palestinian people."
Israel ended the US-brokered peace talks, which only resumed last July after a three-year hiatus, on 23 April after demanding the annulment of Fatah's reconciliation agreement with Hamas.
Fatah, which is led by Mr Abbas as head of the Palestinian Authority, and Hamas, which governs Gaza, said they planned to form a unity government.
Hamas rejects Israel's right to exist and is designated a terrorist group by the US, EU, Israel and other countries.
Mr Abbas said the new government would be bound by his plan for peace.
But Israeli Prime Minister Benjamin Netanyahu told the BBC that Mr Abbas could "have peace with Israel or a pact with Hamas - he can't have both".
Earlier on Wednesday, President Abbas met British Prime Minister David Cameron at 10 Downing Street.
A Downing Street spokesman said Mr Abbas outlined his plans for a new, technocratic Palestinian government, committed to the principles of the "Quartet" of Middle East negotiators "including non-violence and the recognition of Israel".
"He also expressed his readiness to resume peace talks with Israel and his hope that this could be achieved rapidly," the spokesman said.
'Paused, not finished'
On Tuesday, Israeli President Shimon Peres said he hoped for a return to talks with the Palestinians, saying they were "paused but they are not finished".
"Neither side has a better alternative than peace based upon two states for two peoples," he said.
But Israeli Foreign Minister Avigdor Lieberman said he expected the "impasse" to continue and accused Mr Abbas of having "no interest" in reaching a deal.