Syria conflict: Times journalists beaten during capture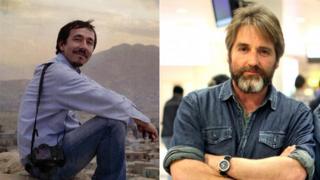 A reporter and a photographer working for British newspaper The Times have been badly beaten while being briefly held by a rebel gang in Syria.
Anthony Loyd and Jack Hill were returning to Turkey from Aleppo when they were seized on Wednesday.
They were reportedly freed after members of the Islamic Front, a coalition of rebel groups, intervened.
Dozens of journalists have been killed, injured or kidnapped in Syria since the conflict began in 2011.
The men had been on a three-day trip to the northern Syrian city of Aleppo, which has come under fierce aerial bombardment as government forces try to end a long-standing stalemate in the city.
Shot in leg
They were on their way back to the Turkish border when their car was intercepted and they were taken to a warehouse in a nearby town.
Mr Loyd, a reporter for the Times, was shot twice in the legs, and both men were badly beaten to stop them trying to escape, the newspaper said.
The journalists, who have both won awards for covering conflicts, reportedly recognised their captors as being the same as those charged with providing them safe passage to the Turkish border.
The BBC's Jim Muir in Beirut says it seems the pair were double-crossed by the very rebel group that was supposedly protecting them.
The men crossed the border to Turkey on Wednesday evening after being released, the Times reports.
Syria has become one of the most dangerous places for journalists.
More than 60 have been killed in the country since the beginning of the uprising against President Bashar al-Assad three years ago.
The conflict has left some 150,000 people dead and forced millions to flee their homes.