Iran nuclear talks: Deal still possible, says Tehran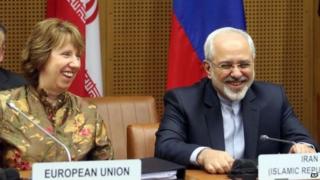 Iranian Foreign Minister Mohammad Javad Zarif has insisted that reaching a final nuclear deal with world powers is still within reach.
His comments came after Iran and six world powers - Britain, China, France, Russia, the US and Germany - ended a fourth round of nuclear talks in Vienna with little progress to report.
The West accuses Iran of trying to build a nuclear weapon.
Iran says its nuclear energy programme is for entirely peaceful purposes.
"Agreement is possible. But illusions need to go. Opportunity shouldn't be missed again," Mr Zarif said on Twitter.
On 20 July, an interim deal under which Iran curb uranium enrichment in return for the lifting of some Western sanctions is due to expire.
The six powers - known as the P5+1 - want Iran to scale back its sensitive nuclear activities permanently to ensure that it cannot assemble a nuclear weapon.
Tehran is seeking the lifting of all UN and Western sanctions, which are crippling its economy.
The talks in Vienna broke up on Friday with downbeat statements from both sides.
"The gaps were too large to begin drafting the text," said Iran's chief negotiator Abbas Araqchi, adding that "no tangible progress" had been made.
And an unnamed Western diplomat told AFP: "Huge gaps remain. There is really more realism needed on the other side. We had expected a little more flexibility."
Negotiations are due to resume in the Austrian capital next month.