Syria crisis: Red Cross delivers food aid to Aleppo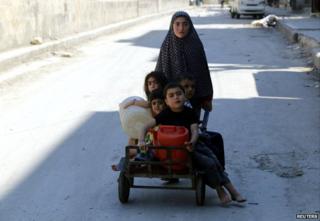 The Syrian province of Aleppo is getting its first food aid for months, with rations delivered to 60,000 people in rebel- and government-held areas.
The operation is being carried out by the International Committee of the Red Cross and the Syrian Arab Red Crescent.
ICRC president Peter Maurer says it is the biggest such operation in months.
Earlier this month the organisation said the humanitarian situation in Syria was "catastrophic" after three years of civil war.
The ICRC negotiated the humanitarian access over several months, in talks with President Bashar al-Assad's regime and rebel groups.
Mr Maurer said that he had first presented the Aleppo plan to Syrian government officials in Damascus in January. "It is four months overdue," he added.
"We have a major food distribution ongoing in Aleppo. It is the first time in months on that scale," Mr Maurer said.
"It is on both sides of the front line."
The operation, which was not previously announced, began on Tuesday and will continue for a few days.
Goods are being delivered by a three-truck convoy accompanied by ICRC officials and volunteers from the Syrian Arab Red Crescent.
Mr Maurer said the operation was targeting thousands of people who fled their homes after the government's "barrel bombing campaign" on Syria's second biggest city and its suburbs.
The Syrian relief operation is currently the ICRC's largest. The group aims to reach one million people each month in the second half of 2014.
Syrian refugees in numbers
2.73 million registered Syrian refugees
More than 70,000 awaiting registration
1.07 million refugees in Lebanon
748,000 refugees in Turkey
596,000 refugees in Jordan