Syrian refugees finding renewed dignity in Azraq camp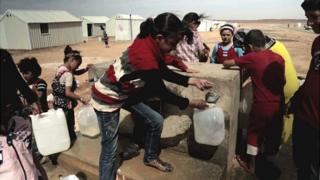 A desolate stretch of desert in central Jordan seems an unlikely place to find sanctuary but more than 6,000 Syrians fleeing war and bloodshed have moved here in the past three weeks.
The newest refugee camp in the region, Azraq, opened on 30 April, a year after planning for the site began. Aid workers say it is one of the best camps ever built.
Eventually it could accommodate as many as 130,000 Syrian refugees.
Mona al-Qadiri invites me to step out of the ferocious sun into the white cabin she has shared with her husband, Khalil, and two youngest children since they arrived here 10 days ago.
It is surprisingly cool behind the specially-designed corrugated iron walls and we sit drinking tea on mattresses laid over mats given by the UN's refugee agency, the UNHCR.
The set-up is a big improvement on the emergency tents in which I met new arrivals from Syria in Jordan's biggest refugee camp, Zaatari, shortly after it opened nearly two years ago.
However it is still a far cry from the house the Qadiris left behind in Damascus after witnessing shellings, shootings and killings.
"We saw this was much better than other camps. It's clean. There are jobs, schools and clinics," Mona tells me. "I just hadn't expected the water pumps and shared bathrooms."
"This isn't how we used to live but, really, it's not bad," says Khalil who used to work installing central heating and air conditioning systems.
He explains how the family has been displaced in southern Syria for two years.
"During this time we had no jobs and we couldn't find money even for food," he says. "We just didn't know what to do any more. It looks like we will be in this camp for a long time. We're lost."
'Sense of normalcy'
Just before Azraq camp opened, the UNHCR head here, Bernadette Castel, showed me around.
She explained how aid agencies and the Jordanian authorities had learnt lessons at Zaatari Camp, which was opened in a hurry as Syrians rushed across the nearby border in 2012.
Living conditions at the earlier camp were harsh, infrastructure was poor and violent protests have sometimes broken out.
By contrast, Azraq Camp is designed to look and function like a real town.
It is divided into separate districts, or "villages", that can each house 10,000 to 15,000 refugees and provide localised services.
There are paved roads to help with access and police are present in the camp 24 hours a day.
"We put in a lot of planning and preparation and I have to say that the arrival process and all the procedures have been quite successful so far," Ms Castel says as we meet again.
She outlines new plans to build a mosque and market near the first "village" to open.
The UNHCR also wants to provide more electricity for refugees so that they are not solely reliant on small, solar-powered devices.
A supermarket in the camp, run by a Jordanian company, opened on the first day in Azraq. It accepts vouchers from the World Food Programme (WFP).
"This is the first time that a refugee camp opens with a fully functional supermarket," says Dina al-Qasabi from the WFP.
"The refugees can buy their food and this gives them a sense of dignity. There is also a sense of normalcy when they come to a supermarket. This is how they're used to shopping in Syria."
How the camp developed over a year
In the long queue for the checkout at the Sameh store, I catch up with members of the Qadiri family once again.
"Everything you want you can find it here. There is nothing missing, I like it so much," Mona enthuses. "Whatever comes to your mind, you can cook for yourself. You can get whatever your kids want."
Mona and her sister-in-law, Ibtisam, plan to make stuffed courgettes for dinner using Syrian spices that they stashed away before making the journey here.
Ibtisam, Khalil's sister, is married to Farouk, Mona's brother. The second couple arrived just a day ago, with their four children. They are pleased to be living in two shelters next door to their relatives.
The women tell me the priority now is to register all of their children at school.
Ibtisam and Farouk's 11-year-old son, Seif el-Din, looks forward to it.
"So far I have just been playing with the other kids," he says. "I would love to go back to school. In Syria, I missed three exams because of the fighting and my mum had to force the headteacher to give me my school certificate."
There are two schools at the camp ready to receive pupils when the new term starts in September.
Already one is offering remedial classes and activities. When we stop by, there is a martial arts lesson outside.
In a nearby classroom, an energetic teacher encourages her class to clap each little boy who comes forward to write a number on the whiteboard. "Bravo, bravo," she exclaims.
Many of these children have missed out on their early education. Some appear traumatised and sit staring into space.
Living in a camp will always be hard but the routines here can restore order and discipline to the lives of the children.
And Syria's long crisis is also teaching aid agencies better ways to help refugees.