Egypt election: BBC reporters at the scene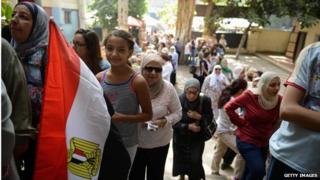 Egyptians are going to the polls to elect a new president, after years of political instability following the revolution of 2011.
It is the second time in two years that voters will have chosen a new head of state. Here, BBC correspondents report on how events are unfolding around the country.
---
Ahmed Omar, Suez (13:15)
At a polling station in Suez, people were not very optimistic about the future.
Voters in a queue noticed a young man standing nearby watching them. "Don't you want to vote?" they asked. The man, Mohammed, answered back: "I didn't take part in the revolution and watch my friends die to then vote in an election that is nothing but a show."
Those boycotting the elections stood on one side, refusing any attempt to convince them to vote.
The queues of voters were long, though. Um Intisar, holding her three-year-old girl in her arms, had tears in her eyes.
"My daughter was born on the second day of the revolution, on that same day Suez had its first martyr who was killed in one of the protests. I never had hope that things would get better, but now I do," she said.
Both the boycotters and the voters are waiting to see what impact these elections will have on the city's economic and security situation.
---
Ahmed Kilani, Minya, Upper Egypt (13:00 GMT)
Women voters were visibly higher in number than men here. Women and men stand in separate queues in Egypt.
Young Egyptians seemed to have stayed away from this polling station as mainly elderly Egyptians were casting their votes.
There was a sense of excitement among the voters. Michel Magdi said he had brought his three-year-old daughter to teach her the importance of determining the future for her country. Another voter, Fatima Saad, says she wanted to live in peace and security.
The heavy security presence, with snipers on rooftops, did not stop Muslim Brotherhood supporters from protesting in Delga in Minya province, calling on people to boycott the elections and chanting anti-army slogans.
---
Amr Gamil, Helwan, Cairo (11:50 GMT)
Voters queued up even before polls opened this morning.
At this polling station, south of Cairo, there are notably more women voting than men. What is also clear is the absence of young people.
Helwan is seen as a stronghold of the Muslim Brotherhood, which has been leading weekly demonstrations here against the interim government.
Today, there is a visibly heavy security presence, with military helicopters overhead, and police and soldiers on the streets.
---
Sally Nabil, Alexandria (10:00 GMT)
People started queuing in front of a men-only polling station in Alexandria, Egypt's second-largest city, more than an hour before the doors opened.
There were some young voters, but the majority were elderly. "We are shaping the future of our country. We can stay home but be ruled by someone we don't approve of," one old man man told me.
"Stability" is a key word for the voters here. When I asked them what their biggest wish was, the answer was almost unanimous: "We want to feel safe".
Some of the voters walked into the polling stations, others pushed in wheelchairs provided by the ministry of the interior.
"I took the day off to be to vote early morning," a young man said.
The security presence is notably heavy - police and army are almost everywhere across the city. Sirens can be occasionally heard, signalling a convoy passing by.
Alexandria is a stronghold for Islamists. The Muslim Brotherhood have called for boycotting the elections, whereas the majority of Salafists here are supporting Mr Sisi.
---
Orla Guerin, Gamaliyya, Cairo (10:00 GMT)
In the historic quarter where Abdul Fattah al-Sisi grew up, posters of the president-in-waiting are draped across the narrow streets. Around noon we found no queues at polling stations in Gamaliyya district, but plenty of ardent Sisi supporters calling out from shop fronts and doorways.
Sixty-one-year-old Ratiba, who wore dangly gold earrings, described the former army chief as her bridegroom. She said she was voting for him not because he was from the neighbourhood, but because Egypt needed a military leader.
After casting her vote, one elderly woman in a headscarf told us that she had voted for Mr Sisi because she wanted security and stability. When asked if she thought he could deliver she replied: "God knows."
While Abdul Fattah al-Sisi's victory looks guaranteed, the key issue is how many come out to vote.
Leading pro-democracy activists and supporters of the ousted President Mohammed Morsi are boycotting the ballot. The scale of the turnout will have an impact on Mr Sisi's legitimacy.
---
Kevin Connolly, Zamalek, Cairo (10:15 GMT)
In sedate and leafy Mohammed Saqib Street, in the prosperous Cairo suburb of Zamalek, extraordinary scenes greeted the arrival of a military police general.
He and his platoon of bodyguards in red berets were mobbed as they arrived on a routine security patrol.
The polling station here in the Institute for Fine Arts is for women only and the soldiers were greeted like The Beatles on their first US visit.
They pushed their way gently through a dancing, cheering ululating crowd of women of all ages.
A novel experience for the general perhaps but one he appeared to enjoy.
The soldiers were basking in the reflected glory of former Field Marshal Abdul Fattah al-Sisi - military transport helicopters were cheered ecstatically as they lumbered overhead.
Of the other candidate, Hamdeen Sabahi, there was no mention.
He is clearly destined to be remembered as the man who ran against Mr Sisi.
---
Shaimaa Khalil, Sayeda Zeinab, Cairo (09:00 GMT)
There is a very festive atmosphere in central Cairo - more of a party than a poll. Posters of Abdul Fattah al-Sisi and Egyptian flags are the accessories of the day.
"Sisi is Abdel Nasser!" said one elderly woman, referring to the popular late president, who was also a military man. "He'll bring back our Egypt," she added. "Tell them. Let the whole world know."
Perception is everything in this election. This is not about who will win - the former defence minister is the clear front-runner. This is about how big the turn out will be and how big his mandate is. Even his only rival, Hamdeen Sabahi will tell you his chances of winning are next to none.
The spirits are high but so are the stakes. Whoever ends up in the presidential palace will have to deliver on the two crucial things that have crippled Egypt so far - security and the economy.
The massive security operation is not just to keep voters safe - it is also a message to Egyptians and the world and the security forces are back on the streets and in control.