Abbas asks PM Rami Hamdallah to head Fatah-Hamas unity cabinet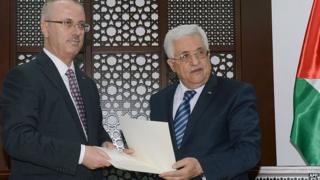 Palestinian President Mahmoud Abbas has asked his current prime minister to form a transitional government involving rivals Fatah and Hamas.
He wished Rami Hamdallah, a British-educated, politically independent academic, luck in his "difficult task".
Fatah and Hamas split violently in 2007 but announced a reconciliation deal last month.
The two sides have yet to publish a list of ministers drawn from independent technocrats.
Reports suggest neither faction agrees on the choice of foreign minister.
Fatah governs in parts of the Israeli-occupied West Bank while Hamas - which has refused to recognise Israel - holds sway in the Gaza Strip.
"This letter designates Doctor Rami Hamdallah to form a new transitional government. I wish him luck in this difficult task which he will undertake," Mr Abbas said with the prime minister at his side.
Difficulties 'overcome'
Faisal Abu Shahla, a senior Fatah official in Gaza who has been involved in the negotiations, said he believed the composition of a unity government would be announced soon.
"Both parties have overcome their difficulties," he said.
Mr Hamdallah was first sworn in as Palestinian prime minister in June 2013, replacing Salam Fayyad.
He previously had a long academic career including 15 years as head of the An-Najah National University based at Nablus in the West Bank.
The main purpose of the unity government is to prepare for elections in 2015.
The latest move comes amid stalled peace talks between Israel and the Palestinians.
Hamas is designated as a terrorist organisation by Israel, the US, the EU, Canada and Japan and its deal with Fatah has angered Israelis.
Prime Minister Benjamin Netanyahu has said Mr Abbas must choose between peace with Israel and peace with Hamas.