Syrian exiles in Lebanon voting frenzy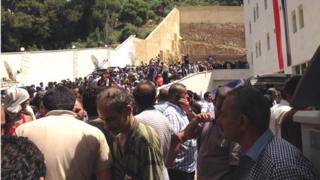 Syrians in Lebanon have been casting their ballots in Syria's presidential election, amid chaos and some confusion about voting for more than one candidate, as Carine Torbey reports from Beirut.
Over a makeshift registration table at the Syrian embassy in Beirut, a man argued angrily with a member of staff.
"I cannot let you vote on behalf of your wife," she tried to explain to him.
Meanwhile inside the ballot room, another electoral official got a lecture on patriotism by an old lady who insisted on voting twice.
It was the first Syrian multiple-choice presidential election in decades, and it kicked off abroad about a week ahead of the vote in Syria itself.
In Lebanon, many of the voters showed up with zeal.
"Syrians have come today to show the world that they are the only ones who can decide their future, not the Chechens or the Afghans," said a young voter, referring to foreign fighters who joined the ranks of the Syrian rebels against the current regime and its allies.
Some pierced their fingers to "vote in blood" for Bashar al-Assad. Others simply tore off the pictures of the two other candidates and placed the picture of President Assad alone in the box.
'Where should I put 'yes'?'
A group of defiant voters wore T-shirts with a picture of the president and the words "shabiha of Assad" - a derogatory term used by opponents of the regime to describe loyalist militias.
Very few voters kept their choice of candidate to themselves - there seemed to be a competition in trying to show the most support for Mr Assad.
The first vote in decades ostensibly pitting several candidates against each other left some voters confused.
"Where should I write the 'yes'?" one of them asked me.
I told him he had to tick the circle under the candidate of his choice.
"Ok, but where do I put the 'yes'?" he repeated.
I tried in vain to persuade him it was an election and not a referendum.
Voting began smoothly, until the crowds forced their way through the iron gate of the embassy. In a matter of minutes, they seemed to have taken over, and chaos reigned.
Under the crush of unruly queues, table legs snapped, and ballot papers were thrown up in the air. Some volunteers were carried away from the crowd to save them from the stampede.
Voters were not even registering their names anymore. They just jotted down their details on the back of the ballot paper.
Mass turnout
There are more than a million Syrians in Lebanon, most of them refugees scattered all over the country.
The large crowds who showed up to vote prompted the embassy to extend polling for another day.
The scenes of the crowds blocking traffic in Beirut and surrounding the Syrian embassy took many Lebanese by surprise. For the first time they came face-to-face with masses of Syrian refugees.
Demographic shifts aside, questions were raised about the motives behind the massive turnout for President Assad.
Some opponents of the regime had a simple explanation.
"Anyone who'd like to return to Syria is going to vote for Assad even without any intimidation from intelligence or anyone else," said Abu Anas, who moved to Lebanon two years ago.
He told me that his son had been killed by government forces while taking part in a demonstration in Damascus. Six months later, Abu Anas fled the country.
"Many who seek to return to Syria will vote for Assad out of fear."
But Abu Anas is not returning anytime soon. "Where would I go? I have nowhere to go back to," he said.
Whether driven by fear, a sense of inevitability, or conviction, the massive participation here of Syrians in the election was a shock - good for some, bad for others.