Female al-Jazeera journalist is arrested in Egypt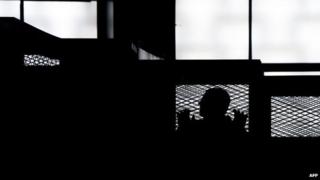 A female freelance journalist working for the satellite news network al-Jazeera in Egypt has been arrested, the interior ministry has said.
Rasha Gafaar was detained at a flat in the Suez Canal city of Port Said where she was allegedly sending videos to an affiliate of the Qatar-based network.
Al-Jazeera has been banned from operating inside Egypt.
Four of its journalists are in prison accused of airing false news and to aiding the banned Muslim Brotherhood.
The trial of three of them - Mohamed Fahmy, Peter Greste and Baher Mohamed - is set to resume on Sunday.
A fourth al-Jazeera reporter, Abdullah Elshamy, who works for the network's Arabic channel, has been detained since August but not charged. He is on a hunger strike.
Vote boycotted
The interior ministry said police had raided the home of Ms Gafaar and confiscated a laptop, a mobile phone and other equipment.
It said her material had been aired by al-Jazeera Mubasher Misr, an Egypt-focused affiliate of the network.
The ministry also accused her of being a member of the Muslim Brotherhood.
Al-Jazeera officials at the channel's headquarters in Doha have not commented on the arrest, but a report on the Mubasher Misr website confirmed that she had been detained on Wednesday.
The report said she has been charged with filming polling stations without any voters during the country's presidential election this week.
Provisional results say former military chief Abdul Fattah al-Sisi has overwhelmingly won the vote.
Correspondents say he is eager for the turnout - expected to be about 46% - to be as high as possible. Islamist and some secular groups boycotted the vote.
Al-Jazeera has been regularly targeted by the Egyptian authorities since the 3 July overthrow of Islamist President Mohammed Morsi.
They accuse the network of broadcasting reports sympathetic to him and his Muslim Brotherhood group, which the government says is a terrorist group.
Al-Jazeera has consistently denied the allegations.