Smugglers 'kill six Egyptian guards' near Libya border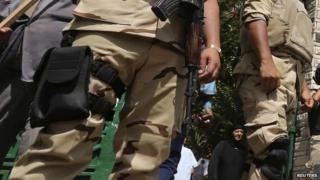 Six Egyptian border guards have been killed in a clash with a group of smugglers in a mountainous region near the Libyan border, the military says.
The smugglers attacked the patrol in retaliation for a crackdown, according to the Facebook page of Egyptian military spokesman Ahmed Mohammed Ali.
Egypt has been trying to prevent Libyan weapons and fighters from reaching Islamist militants in the Sinai.
Both countries have been grappling with unrest since the uprisings of 2011.
Libya's government has struggled to restrain the heavily armed militia groups that helped drive former president Col Muammar Gaddafi from power.
Meanwhile, instability in Egypt has strengthened support for the former military chief, Abdul Fattah al-Sisi, who secured a landslide win in a presidential election last month.
According to an official quoted by the AP news agency, the latest clash between border guards and smugglers took place on Saturday night.
The official said the men were killed in Wadi el-Gadid province, which borders Libya to the west and Sudan to the south.
The Sinai-based militant group, Ansar Beit al-Maqdis, says it carried out the attack, according to a Twitter feed linked to the organisation that was cited in the Egyptian newspaper al-Yawm al-Sabi.