Israel PM warns against Hamas-Fatah 'terror' cabinet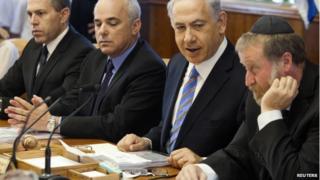 Israel has called on world leaders "not to rush to recognise" a new Palestinian transitional government involving Fatah and the Islamist group Hamas.
PM Benjamin Netanyahu said the unity cabinet, due to be formed on Monday, would "strengthen terror".
The Palestinian leadership has dismissed Israel's concerns, saying the government would comprise ministers without political affiliation.
Hamas and Fatah split violently in 2007 but announced a peace deal in April.
Fatah governs in parts of the Israeli-occupied West Bank while Hamas - which has refused to recognise Israel - holds sway in the Gaza Strip.
The Islamist movement is designated as a terrorist organisation by Israel, the US, the EU, Canada and Japan.
The main purpose of the unity government is to prepare for elections next year.
Boycott 'threat'
"Hamas is a terrorist organisation that calls for Israel's destruction, and the international community must not embrace it," Mr Netanyahu told his cabinet in Jerusalem on Sunday.
Israel froze US-brokered peace talks with Palestinian President Mahmoud Abbas after the unity deal was reached on 23 April.
Mr Abbas said earlier that Israel had warned him it would "boycott the government the moment it was announced".
"Israel wants to punish us for agreeing with Hamas on this government," he said, adding: "Each Israeli step will have a proper Palestinian response."
Mr Abbas said the new interim cabinet would recognise Israel and reject violence.
Palestinian Prime Minister Rami Hamdallah, a British-educated, politically independent academic, has been put in charge of forming the technocratic government.
The US said last month it was "disappointed" by the deal and warned it could seriously complicate peace efforts with Israel.
Fatah has historically been the dominant faction in the Palestinian nationalist movement, but Hamas won parliamentary elections in January 2006.
In early 2007, Fatah and Hamas agreed to form a coalition to end growing factional violence, but in June of that year Hamas seized Gaza by force and set up a rival government.