Egypt satirist Bassem Youssef confirms end of show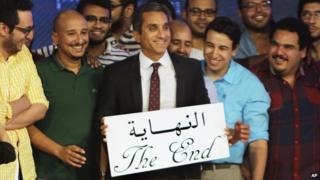 One of Egypt's most popular TV satire shows has come to an end, its creator Bassem Youssef has announced.
The satirist said he was "tired of struggling" and worried about the safety of his family.
His "al-Bernameg" (The Programme) show came under pressure after poking fun at Egypt's military establishment.
The show has been sued dozens of times since it began in the wake of ex-President Hosni Mubarak's downfall in 2011.
Mr Youssef, a former heart surgeon, told a news conference on Monday that the channel that carried the show had been pressured to drop it.
`The present climate in Egypt is not suitable for a political satire programme," he added.
He denied that he was capitulating to pressure, saying: "Stopping the programme sends a much stronger message than if it continued."
At its height, the show was watched by an estimated 8 million viewers inside Egypt and many millions more abroad.
Household name
The show began as a series of amateur YouTube clips filmed in Mr Youssef's Cairo flat in the days following Egypt's 2011 revolution.
Inspired by Jon Stewart's Daily Show, Bassem Youssef went on to develop al-Bernameg, a satirical show filmed in front of a studio audience.
Its success made him a household name throughout the Arab world and he was named as one of the world's top 100 most influential people by Time Magazine in 2013.
However, the show's sharp satire repeatedly angered the authorities, who tried to close it down.
Under the presidency of Muslim Brotherhood president Mohamed Morsi, Mr Youssef faced charges of insulting Islam.
The charges were later thrown out of court, shortly after which Mr Morsi was too thrown out of office by Egypt's military.
In November the private Egyptian CBC channel refused to broadcast one episode because it had "violated editorial policy".
The decision came days after Mr Youssef had lampooned the then head of the army, General Abdul-Fattah al-Sisi, over chocolates that bore his name.
In February, prosecutors filed fresh complaints, accusing Mr Youssef of insulting the armed forces, the will of the Egyptian people and the "symbols" of Egypt.
The show had been on temporary hiatus during Egypt's presidential election, which Mr Sisi won by an overwhelming margin.
Before its cancellation, the show had been due to return later this week.