North Yemen clashes 'leave 120 dead'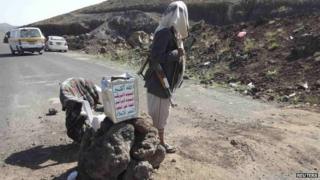 At least 120 people have died in the latest flare-up in the conflict between government forces and Zaidi Shia rebels in northern Yemen, reports say.
Warplanes and troops attacked positions held by the rebels, known as Houthis, in Amran province on Monday.
About 100 Houthis were killed, along with some 20 soldiers, Amran's deputy governor told the Reuters news agency.
The fighting ended on Monday evening after a ceasefire was agreed. No clashes have been reported on Tuesday.
The Houthis have staged periodic uprisings over the past 10 years in an effort to win greater autonomy for their strongholds in the far north.
In February, they seized areas of Amran in fighting that left more than 150 people dead.
Prisoner escape
Monday's clashes reportedly erupted after troops and members of the Sunni Islamic Islah party tried to expel rebels from a strategic position near the provincial capital of Amran, officials told the AFP news agency.
Air force jets supported the assault on the position, which is on the main road to capital Sanaa, 45km (28 miles) to the south-east.
The rebels, backed by tribes, retaliated by attacking telecommunications installations and blocking traffic on the road, the officials added.
Amran's prison also came under rebel attack and several inmates escaped, the interior ministry said. A police source told AFP that 10 Houthis detained on "serious criminal charges" were among them.
Rebel spokesman Mohammed Abdul Salam condemned the air force's intervention, saying it was a "very serious development", and warned that there would be "consequences".
He declined to give a death toll, but initial reports from tribal sources and medics said dozens were killed or wounded. On Tuesday Amran deputy governor Ahmed al-Bekry told Reuters that at least 120 had died.
But the situation was now "calm" following mediation efforts led by the interior minister which saw both sides agree a ceasefire, he added.