Iran nuclear talks: US and Iran to hold Geneva meeting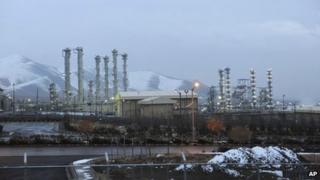 Senior US and Iranian officials are to meet in Geneva on Monday for two days of talks ahead of the next round of negotiations between six world powers and Tehran on its nuclear programme.
Iran's state media said Iranian officials would then hold similar discussions with Russia in Rome.
Talks in May ended without progress.
The West accuses Iran of trying to build a nuclear weapon, while Iran says its nuclear energy programme is for peaceful purposes.
Saturday's announcement by the Iranian foreign ministry said Iran was also "working to arrange" other bilateral discussions with members of the six powers - known as the P5+1 - before the Vienna meeting, the AFP news agency reports.
The bilateral talks will mark another milestone in the relations between the two countries, which have been at loggerheads for decades, says BBC Persian's Kasra Naji.
The two sides have been held relatively short bilateral talks on the sidelines of several rounds of nuclear talks.
Last month, Iranian Foreign Minister Mohammad Javad Zarif insisted a final nuclear deal with the UK, China, France, Russia, the US and Germany was still within reach.
Each side accused the other of making unrealistic demands at the end of the May talks.
On 20 July, an interim deal under which Iran curb uranium enrichment in return for the lifting of some Western sanctions is due to expire.
The six powers want Iran to scale back its sensitive nuclear activities permanently to ensure that it cannot assemble a nuclear weapon.
Tehran is seeking the lifting of all UN and Western sanctions, which are crippling its economy.
Negotiations are due to resume in the Austrian capital, Vienna, later this month.