Iraq violence: Double bombing 'targets Kurdish parties'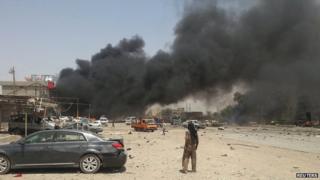 At least 21 people have been killed in a double bombing targeting the offices of two Kurdish political parties in northern Iraq, officials say.
A car bomb blew up at a checkpoint near the headquarters of the Patriotic Union of Kurdistan (PUK) and the Kurdistan Communist Party in Tuz Khurmatu.
As a crowd gathered at the scene, a truck bomb was detonated.
On Sunday, at least 17 people were killed in bombings at a PUK office and a Kurdish security building in Jalawla.
The Islamic State in Iraq and the Levant (ISIS) has reportedly claimed that it was behind the attacks on both Sunday and Monday.
The Iraqi authorities have blamed the jihadist militant group, which also operates in the neighbouring Syria, for the surge in sectarian bloodshed.
Almost 800 Iraqis, including 603 civilians, were killed in violent attacks in May, according to UN figures. Last year, more than 8,860 people died.
On Saturday, suspected ISIS militants took hundreds of people hostage at Anbar University in Ramadi.
It was thought that all were freed after an assault by security forces, but on Monday the head of the Anbar provincial council Sabah al-Karhout told reporters that 15 staff members were still missing.
Parts of Ramadi, which is the capital of Anbar province, and much of the nearby city of Falluja have been under the control of ISIS and its allies since late December. Security forces have been unable to dislodge them.