Iraq unrest: Baghdad hit by deadly suicide attack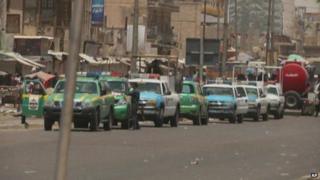 A suicide bombing in Baghdad has killed at least nine people and wounded 20 more, officials in Iraq's capital say.
Police said an attacker wearing an explosive vest detonated his device near central Tahrir Square.
Reports say more bombs went off after nightfall, including one in the mainly Shia Muslim district of Sadr City, killing three.
The violence comes as Iraqi government forces try to repel an advance on the city by Sunni militants from the north.
Bombings against civilians and security forces in Baghdad have been common since the US-led invasion toppled Saddam Hussein in 2003.