Israel detains dozens more in search for missing teens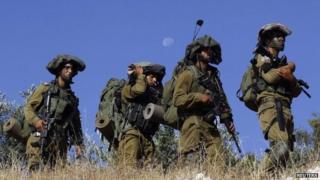 Israel's military has arrested 41 more Palestinians as it expands the search for three Israeli teenagers believed kidnapped in the West Bank.
The total number of people detained since the Jewish seminary students went missing last Thursday now exceeds 200.
Most of them are members of Hamas, which Israel suspects of involvement.
Meanwhile, Israeli warplanes bombed weapons manufacturing and storage sites in the Gaza Strip in response to rocket fire, the Israeli military said.
Soldiers also shot a Palestinian who tried to set fire to a fence surrounding a Jewish settlement in the West Bank, it added. Palestinian medics said he was being treated at a hospital in Ramallah.
'Ticket to Hell'
The latest arrests took place in the northern West Bank city of Nablus.
Members of Palestinian Authority President Mahmoud Abbas's Fatah faction were reportedly among those detained on Tuesday. Several were Palestinian security forces personnel who were previously active in a militant offshoot of Fatah, according to the Associated Press.
The search has previously been focused on the southern city of Hebron, which is near to the junction where Naftali Frenkel and Gilad Shaar, who are both 16, and 19-year-old Eyal Yifrach went missing as they hitchhiked their way home.
The Israeli authorities have blamed Hamas for the apparent abductions.
"As long as our boys remain abducted, Hamas will feel pursued, paralysed and threatened," said Israeli military spokesman Lt Col Peter Lerner in a statement.
"We are committed to resolving the kidnapping and debilitating Hamas terrorist capacities, its infrastructure and its recruiting institutions."
The Islamist movement, which Israel regards as a terrorist group, has dismissed the accusation that it is involved as "stupid". It has also said the detention of its members, including several leaders in the West Bank, "will not stop it and it will not change its path".
In a statement on Tuesday, the EU said it condemned "in the strongest terms the abduction of three Israeli students in the West Bank and [we] call for their immediate release and safe return to their families.
"Such acts can only undermine international efforts to encourage a resumption of peace negotiations."
Israeli Prime Minister Benjamin Netanyahu has warned that it might "take time" to find the teenagers.
"We are here in the midst of a complex operation. We need to be prepared for the possibility that it may take time. This is a serious event and there will be serious consequences," he said on Monday night.
Earlier, Israel's security cabinet reportedly discussed punitive measures, including deporting senior Hamas members in the West Bank to Gaza and demolishing their homes.
"We will bring about a situation in which Hamas people will become a nuisance for the Palestinian population, and that their presence in [the West Bank] will cause harm everywhere," Economy Minister Naftali Bennett, who was at the meeting, told Israeli Army Radio. "In other words we will turn membership in Hamas into an entry ticket to Hell."
Commentators in Israeli media said Israel might be seeking to bring about the collapse of the newly formed Palestinian unity government, which is backed by Hamas, and weaken the Islamist movement ahead of the planned Palestinian presidential and legislative elections.