Israel holds ex-Palestinian prisoners in teenagers hunt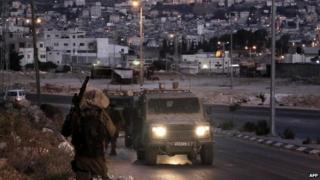 Israeli troops have arrested another 65 Palestinians, including 51 freed in a 2011 prisoner swap, as they search for three missing teenagers.
The total number of people detained since the Jewish seminary students went missing last Thursday is now 240.
Israeli Prime Minister Benjamin Netanyahu said the arrests in the West Bank had sent an "important message" and dealt a substantial blow to Hamas.
He has accused the group of abducting the students, but not provided proof.
Hamas has dismissed the allegation that it is involved as "stupid".
'Parallel efforts'
The Israeli military said on Wednesday morning that 51 of the suspects detained overnight had been part of a group of 1,027 prisoners released three years ago in return for the Israeli soldier Sgt Gilad Shalit, who was seized by militants from Gaza in 2006.
Many of those held were arrested during raids on houses in the northern West Bank city of Nablus and Hebron, in the south, near where Naftali Frenkel and Gilad Shaar, who are both 16, and 19-year-old Eyal Yifrach went missing as they hitchhiked their way home.
"We have two efforts ongoing in parallel. First is to bring back the boys, and the second is to take a toll on Hamas for its actions," Israeli military spokesman Lt-Col Peter Lerner told reporters.
"We are acting on the understanding that they are still alive."
Troops raided institutions that provide civilian support for Hamas, including its radio station, al-Aqsa, which has offices in Ramallah and Hebron. Computers and documents were seized.
"It's a multi-dimensional operation, both overt and covert. It is going to strike a substantial blow to Hamas, its infrastructure, its institutions, its lifeline and everything that keeps it going," Col Lerner added.
Mr Netanyahu was swift to praise the military's actions.
"The operation tonight in which Hamas terrorists were arrested, including some who had been freed in exchange for the return of Gilad Shalit, is a component with an important message in a series of many actions," he said in a statement.
Palestinians accused Israel of reneging on the prisoner-swap deal.
"What Israel is doing has nothing to do with security, but is a policy of revenge," said Qadoura Fares, chairman of the Palestinian Prisoners Club, which assists Palestinians in Israeli jails.
But Palestinian Authority President Mahmoud Abbas said those behind the apparent abductions were trying to destroy the Palestinians.
"Regardless of the party that did this, we will have to say that to them, because we cannot tolerate such operations," he said at a summit of the Organisation of the Islamic Conference (OIC) in Jeddah.
"We are co-ordinating with [Israel] in order to return those youths because they are human beings and we want to protect the lives of human beings," he added.
Hamas criticised the president's remarks on security co-ordination with Israel, saying they were "unjustified" and "harmful" to the Palestinian reconciliation deal between it and Mr Abbas's Fatah faction.
A unity government supported by Hamas was formed this month, replacing the rival administrations in the West Bank and Gaza.