Tensions mount amid hunt for Israeli teens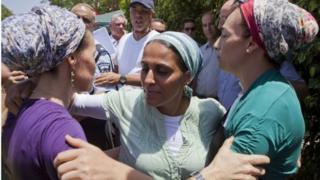 It is just over a week since 16-year-old Naftali Frenkel and two other young Israelis Gilad Shaer, also 16, and Eyal Yifrach, 19, disappeared from a busy hitch-hiking junction on Route 60 in the occupied West Bank.
The students were trying to get home from Jewish seminaries in settlements in and near Hebron.
"They are three innocent kids. All they were doing is coming home from school and we haven't seen them since. We miss them," Ittael Frenkel, Naftali's aunt, told the BBC.
"I don't know what he [Naftali] is going through. That's the hardest part but I know he's strong. We really hope for mercy."
Israel has launched a huge military operation called Brothers' Keeper to try to find the missing teenagers.
More than 300 Palestinians have been arrested. Most belong to the Islamist movement Hamas. Israel accuses Hamas of taking the missing teenagers - but no Palestinian militant group has said it was responsible.
Rising anger
In Israel, a social media campaign has been launched with the hashtag, #BringBackOurBoys. Many Israelis are deeply worried, particularly those who live and work near the West Bank settlements.
Settlements are considered illegal under international law, though Israel disputes this.
"It's a terrible thing that happened to those boys and their families," says Chana Rue, who often hitchhikes along Route 60 between Hebron and Jerusalem because of the patchy public transport.
"Those boys have no idea what's going to happen to them and we're not even 100% sure that they're still alive."
"All the people I know, we're really concerned - we're always on our iPhones looking for some good news," adds another young woman, Noa Laron.
"This is what we speak about all day and we really pray a lot and that our soldiers will be safe and sound because they're not in a good place right now."
Thousands of Israeli troops are involved in the search operation. There have been violent clashes as they have entered Palestinian towns and villages.
Two young Palestinians have been killed, causing anger and resentment to rise.
On Friday, a 15-year-old Palestinian boy was shot dead in Dura, south of Hebron, when Israeli soldiers opened fire.
Earlier this week a young Palestinian man was killed in the Jalazoun refugee camp, near Ramallah.
The southern city of Hebron has been virtually closed by the Israeli military. Most Hebronites are prevented from travelling freely around the West Bank and going abroad.
This week in Taffuh village we watched as Israeli soldiers took over a Palestinian house on a strategic position on the hillside and moved supplies inside.
Locals feel they are being collectively punished for the disappearance of the three Israelis.
"More checkpoints, more closures. I've not been to my job all week," says Issa Amro.
"You are waiting for the soldiers to come to your house any time. You are completely terrified about your children, your family, your neighbours.
"This is a kind of revenge against the Palestinian civilians for what happened to the Israelis and we're not responsible for it."
"I'm so worried about the situation escalating," says Zleikha Muhtaseb, a resident of the Old City of Hebron.
"Detaining people in big numbers like this is meant to send a message and create more tension in society."
Reconciliation risk
Like many Palestinians, Ms Muhtaseb, expects a significant political fallout.
"Now many Palestinians are angry with the Palestinian Authority [which governs parts of the West Bank] as they feel it's not protecting them," she says. "Of course there's probably nothing they can do. We know Israel doesn't want to see Palestinians united."
The latest developments come just after the two main Palestinian political factions - Hamas and Fatah - set up a new unity government, made up of technocrats, to pave the way for elections.
It is led by President Mahmoud Abbas, who heads Fatah.
Israel strongly opposed the creation of the new government and broke off peace talks with Mr Abbas in April after the reconciliation deal. Along with the European Union, the United States and other countries, it sees Hamas as a terrorist group.
President Abbas has condemned the apparent kidnapping of the three Israelis as well as Israel's military response. His troops have been helping with the search, drawing criticism from Hamas officials.
Israel has made clear that its military objectives in the West Bank include targeting Hamas operatives and infrastructure.
Hamas has been responsible for previous abductions of Israelis, including the soldier Gilad Shalit who was held for five years in the Gaza Strip.
Outside the Frenkel family house in the Orthodox neighbourhood of Nof Ayalon, near Modin in central Israel, friends and neighbours are saying prayers.
However, the teenagers' disappearance has quickly turned from being a personal crisis for their families into a political drama.