Iraq reprisals raise spectre of revived civil war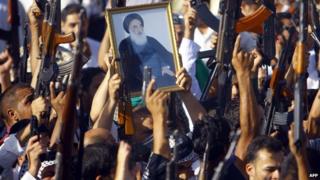 The deteriorating security situation in Iraq, where Sunni militants led by the Islamic State in Iraq and the Levant (Isis) have seized control of large swaths of territory from the Shia-dominated central government, has amplified sectarian tensions.
Shia clerics have joined calls from Prime Minister Nouri Maliki for people to take up arms to defend Iraq. Hundreds of thousands of volunteers, most of them Shia, have entered the battle.
Sunni Arab civilians are meanwhile worried that they will be held responsible for attacks by extremists whom they too reject.
UN Secretary General Ban Ki-moon has warned that sectarian reprisals "can only intensify the cycle of violence", threatening to push Iraq back towards the vicious civil war that left tens of thousands dead at its peak in 2006 and 2007.
Then, dozens of bodies were found each day on Iraq's streets as Shia death squads exacted revenge for horrific bombings that largely targeted their community.
The Shias initially appeared to heed calls not to seek revenge for the killings of soldiers and government workers when Isis launched its offensive earlier this month.
But reports have since begun to emerge of brutal sectarian and retaliatory attacks, the most prominent of which are described below:
Salahuddin province
Isis posted photographs online on 14 June, showing what appears to be a massacre of dozens of soldiers in Salahuddin province, which includes the cities of Tikrit and Baiji.
One of the photo captions claims to show the "purification of hundreds of members of the Safavid army as they flee fighting in civilian clothing". Safavid is a derogatory term used by Sunni extremists to describe the Shia.
The captives are seen lying down in trenches, surrounded by gunmen. Some images show small clouds of dust kick up around the captives as the gunmen open fire. Others show the aftermath of the apparent executions, with what appear to be small pools of blood near the captives' bodies.
Doubts have been expressed about the authenticity of the photos, but military spokesman Lt Gen Qassim al-Moussawi said they depicted real events in Salahuddin province. The militants' claim to have killed 1,700 soldiers in Tikrit could also not be verified.
On 16 June, a video was released purportedly showing the last moments of five soldiers sitting on the ground with their hands bound, as they are humiliated and taunted by their Isis captors.
A corporal who resists orders to repeat an Isis slogan appears to be shot off camera by one militant, who then proudly declares: "Praise to Allah, whether he is a believer or not, I killed him. I killed a Shia!" At the end of the video, the other soldiers can be seen lying dead.
UN High Commissioner for Human Rights Navi Pillay said on 16 June: "It appears hundreds of non-combatant men were summarily executed over the past five days, including surrendered or captured soldiers, military conscripts, police and others associated with the government."
Most of the incidents occurred in the Tikrit area, and almost certainly amounted to war crimes, she added.
Baquba
The bodies of at least 44 Sunni detainees were found in a government-controlled police station in the city, 60 km (37 miles) north of Baghdad, on 17 June. Most had been shot in the head or chest.
The detainees were suspected of having ties to Isis, whose fighters had overrun several districts of Baquba and were firing rocket-propelled grenades and assault rifles at the police station in an attempt to free them.
Police officers told the Associated Press that a Swat team accompanied by Shia militiamen arrived at the station on the night of 16 June and ordered them to leave. On their return, the officers found the detainees dead, they added. Officials at the local mortuary said many of the victims had been shot at close range.
Chief military spokesman Lt Gen Qassim Atta blamed the deaths on Isis, saying the prisoners died when the police station was hit by grenades and mortars. Fifty-two prisoners were killed along with nine attackers, he said.
Separately, a police officer injured during the battle over Baquba told the BBC that he had seen Isis fighters shoot 20 people on board a bus. Photographs were also posted online that purportedly showed Isis militants executing Shia men in front of a large crowd. A young boy holding a rifle is seen standing nearby, forced to watch.
Baghdad
The remains of four young men, believed to have been Sunnis, were found dumped on the morning of 17 June in Benuk, a district controlled by Shia militiamen, officials said. They had been shot multiple times.
Later on, two explosions in predominantly Shia districts of the capital killed another 18 people. Fourteen of them died when a suicide bomber blew himself up at a crowded market in the north-eastern suburb of Sadr City. No-one claimed responsibility, but Shia areas are frequently targeted by Sunni militants.
On 19 June, the bullet-riddled bodies of four handcuffed men, presumably Sunnis, were discovered in the Shia district of Abu Dashir, officials said. A car bomb also exploded inside a car park in the south-eastern area of New Baghdad, killing three.
Mosul
According to information received by the UN, forces affiliated with Isis executed the imam of the Grand Mosque in Mosul on 12 June for refusing to pledge allegiance to the jihadist group.
Reports of additional executions of religious leaders have also been received, including on 14 June, when 12 local imams were allegedly executed in front of the al-Israa mosque, also in Mosul, for the same reason.