Iraq crisis: Can Kerry pull Iraq back from the brink?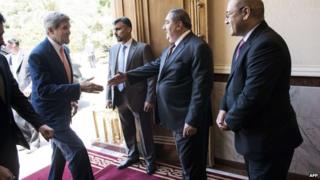 US influence in Iraq is much reduced from the high point of the American presence here, but it is still a player with some weight in the Iraqi political game.
John Kerry is trying to persuade politicians across the board to rise above the sectarian and ethnic divides and come together to pull their country back from the brink of fragmentation.
The question is no longer whether Iraq is splitting up - it is. The question is whether that process can somehow be reversed. The odds are not good.
A Sunni entity is already virtually there, stretching from Mosul in the north down the Tigris valley and across to al-Anbar province west of Baghdad.
The Kurds already run their practically independent autonomous region in the north, now expanded to disputed areas including oil-rich Kirkuk. The majority Shia have the provinces south of Baghdad down to Basra.
That leaves the mixed central areas of Baghdad and Diyala province to its north-east still to be contested, unless a political settlement can be found.
No meeting of minds
Clearly, a united Iraq under iron-fist central rule from Baghdad is a thing of the past.
A future Iraq will clearly have to involve a large measure of devolution, if not actual partition.
It could happen bloodily, or by agreement, though time for the latter seems to be running out fast as sectarian passions rise.
It's unlikely that Mr Kerry will find a single Iraqi leader apart from Prime Minister Nouri al-Maliki who believes that the incumbent premier is the man to lead a reconciliation process necessary for a political solution.
But if Iran insists that Mr Maliki has to stay - as it has with Bashar al-Assad in Syria - the chances of a settlement will be sharply reduced.
A solution would require some kind of understanding between the two major outside players, the US and Iran, but there's little sign of a meeting of minds so far.
Are you in Iraq or do you have family in the country? You can contact us by emailing haveyoursay@bbc.co.uk using 'Iraq' in the subject heading.