Iraq's neighbours alarmed by jihadists' rapid gains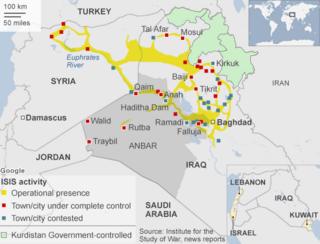 US Secretary of State John Kerry has warned Middle Eastern leaders that the Islamic State in Iraq and the Levant (Isis) is a "threat not only to Iraq but to the entire region".
Iraq's neighbours have expressed serious concern about the jihadist group's offensive, which has seen it overrun cities and towns in the face of little resistance from soldiers and police. Many began boosting their defences after several border crossings were seized over the weekend.
Syria
Isis already controls large parts of northern and eastern Syria, including much of Raqqa and Deir al-Zour provinces. Emboldened by the gains made in Iraq, Isis fighters seized a number of strategically important towns along the Syrian side of the border last week. They also used weapons and equipment seized from the Iraqi army.
Isis's advance is said to have alarmed the Syrian government, which has allegedly refrained from targeting the jihadist group because of the damage it has caused to more moderate rebel forces. Over the past week, the Syrian air force has for the first time attacked Isis strongholds.
The main Syrian opposition alliance, the National Coalition, has said it has been warning about the threat posed by Isis for years, and that pro-Western and Islamist rebel groups should have been given the military aid they needed earlier to counter it. They launched an offensive to expel Isis from Syria in January, triggering fighting that has killed thousands.
Iran
On Sunday, Iran's Supreme Leader rejected military intervention in Iraq by the US, accusing Washington of trying to manipulate sectarian divisions to retake the country it once occupied. Ayatollah Ali Khamenei said he believed Iraqis could end the violence themselves.
The region's leading Shia power is reported to have sent troops to Iraq to advise its security forces on how to tackle Isis. The commander of the elite Quds Force of the Iranian Revolutionary Guards, Gen Qasem Soleimani, has flown to Baghdad to oversee the capital's defences and the thousands of Iraqi Shia who have responded to calls to take up arms and defend their country, particularly its Shia shrines.
Iran has steadily built up its influence in Iraq since the 2003 US-led invasion that toppled Saddam Hussein, with whom it fought a bloody eight-year war in the 1980s. Many Iraqi leaders spent years in exile in Iran, and their political parties and militia receive support from Tehran.
Jordan
Jordan has bolstered its defences along the border with Iraq with tanks and rocket-launchers after Sunni militants seized territory in the west of Anbar province and took control of the Iraqi side of the only land crossing with Jordan at Traybil.
The loss of Traybil is not seen as an immediate security threat to Jordan. However, army sources told the Reuters news agency on Sunday that army units had been put in a state of alert.
Some analysts believe Jordan could be Isis's next target. However, they note that the government is more stable than Iraq's, its army more effective, and its jihadist ideologues have denounced Isis's brutality.
Turkey
ISIS has taken over a number of cities and towns near Turkey's borders with Iraq and Syria, and kidnapped dozens of Turkish citizens.
Although the Turkish government has threatened to retaliate if any of its citizens are harmed, Prime Minister Recep Tayyip Erdogan last week warned of the risks of launching air strikes against the Isis-led forces in Iraq because of the risk of "serious" civilian casualties.
Analysts say the Turkish government is changing its stance on the creation of an independent Kurdish state in north-eastern Iraq, which it has long opposed. Officials now reportedly believe that Iraq will end up becoming a loose federation of three entities - Kurdish, Sunni Arab and Shia Arab - or divided altogether.
Mr Erdogan's opponents say his government has helped Isis by allowing Syria-bound jihadists to pass freely through its territory.
Saudi Arabia
Iraq's Prime Minister Nouri Maliki last week accused Saudi Arabia, the main Sunni Gulf power, of promoting "crimes that may qualify as genocide" by providing financial and moral support to Isis. The Saudi government rejected what it called a "malicious falsehood". It stressed that it wished to see the destruction of Isis, and blamed the "exclusionist policies" of Mr Maliki's Shia-dominated government.
Despite such assertions, Isis is widely believed to receive money from wealthy individuals in Saudi Arabia. Hundreds of Saudis are also believed to have fought in Iraq and Syria over the past decade.
The authorities in Riyadh are increasingly concerned about returning Saudi jihadists switching their attention to the kingdom.
Kuwait
Kuwait's Foreign Minister Sheikh Sabah al-Khalid al-Sabah has said the recent developments in Iraq are "deeply worrying" but were "expected".
The Kuwaiti minister responsible for border security, Maj Gen Sheikh Mohammed al-Youssef, assured citizens and residents last week that the emirate's northern frontier was safe. He said the state of readiness of the Kuwaiti military did not need to be raised because the situation in the predominantly Shia south of Iraq was "calm".
Wealthy donors based in Kuwait are believed to have given money to ISIS and other extremist Sunni rebel groups in Syria.