Iraq crisis: Key oil refinery 'seized by rebels'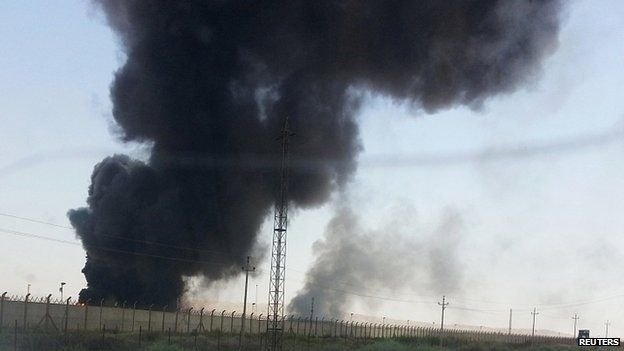 Sunni rebels in Iraq say they have fully captured the country's main oil refinery at Baiji, north of Baghdad.
The refinery had been under siege for 10 days with the militant offensive being repulsed several times.
US Secretary of State John Kerry is in Irbil, northern Iraq, for a second day of talks with the country's leaders.
Insurgents, spearheaded by Islamists, have overrun a swathe of territory in the north and west including the second-biggest city, Mosul.
They are bearing down on a vital dam near Haditha and have captured all border crossings to Syria and Jordan.
The Baiji refinery, in Salahuddin province, supplies a third of Iraq's refined fuel and the battle has already led to petrol rationing.
A rebel spokesman said the complex would now be handed over to local tribes to administer.
The spokesman said that the advance towards Baghdad would continue.
The BBC's Jim Muir in Irbil, northern Iraq, says the capture of the refinery is essential if the rebels are to keep control of the areas they have conquered and to supply Mosul with energy.
The US secretary of state vowed "intense and sustained support" for Iraq after meeting key politicians in the capital, Baghdad.
Mr Kerry met Iraqi Prime Minister Nouri Maliki and also held talks with key Shia and Sunni figures.
Jim Muir, BBC News, Irbil
It's been a really to-and-fro battle for Baiji. Now the rebels say it has finally been decided and they have taken over the whole complex. There are reports that they are now handing the refinery over to local tribes and technicians with the aim of getting fuel production going again. It has been disrupted for several days to huge effect. If true, the capture of the complex would enable the rebels to supply Mosul with energy, which is seen as vital to the viability of the region they are carving out.
Meanwhile, extremely concentrated political efforts are going on behind the scenes to get the politics in Baghdad right.
Only then would America wade in and start doing anything physical. There are urgent efforts to get parliament to meet on time on 1 July and to agree in advance who will be the new PM. Everybody I speak to says this will not be Nouri Maliki but one of about three other figures acceptable to Iran and America, which has a key role to play in trying to broker a deal.
Speaking at the US embassy, Mr Kerry said US support would "allow Iraqi security forces to confront [Isis] more effectively and in a way that respects Iraq's sovereignty".
"The support will be intense, sustained, and if Iraq's leaders take the steps needed to bring the country together it will be effective," he said.
"It is essential that Iraq's leaders form a genuinely inclusive government as rapidly as possible.''
Mr Kerry has now arrived in Irbil to meet Kurdish leaders.
Our correspondent says concentrated political efforts are underway to establish a leadership in Baghdad that is acceptable to both Iran and the US before any US intervention.
He says Mr Maliki is expected to be replaced as prime minister by one of three other figures when parliament meets on 1 July.
Mr Maliki, a member of Iraq's Shia Muslim majority, has been criticised for concentrating power among his mostly Shia allies and excluding other groups including Sunni and Kurdish communities.
A statement from Mr Maliki's office after the Kerry meeting said the crisis in Iraq represented "a threat not only to Iraq but to regional and international peace".
The US, which pulled out of Iraq in 2011, has already announced it is deploying some 300 military advisers to Iraq to help in the fight against the insurgents.
The Pentagon has confirmed that Iraq has given the advisers legal protection.
Neighbouring Iran says it opposes US intervention. Supreme Leader Ayatollah Ali Khamenei accused Washington of "seeking an Iraq under its hegemony and ruled by its stooges".
Isis has taken two key border crossings in Anbar province that link Iraq with Syria, pursuing its goal of forming a "caliphate" straddling both countries.
Further south they have also seized the Traybil crossing, the only legal crossing point between Iraq and Jordan.
The Jordanian military said its troops had been on a state of alert along the 180km (112 mile) border to ward off "any potential or perceived security threats".