Egypt press rejects Al-Jazeera verdict critics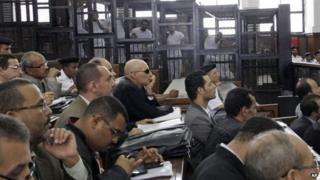 There has been a marked difference in the way Egypt's official media and social media have reacted to the news of the seven-year jail terms handed down in the case of the three Al-Jazeera journalists.
While reporting the verdict prominently, the traditional media have not criticised it, and, echoing the official line, have expressed rejection of "foreign interference" in Egypt's affairs.
However, the story has been met with shock and outrage on social media.
'Rage and calm'
The verdict and the world reactions it triggered feature on the front pages of most of Egypt's major dailies.
"Al-Jazeera journalists imprisonment: International rage and Egyptian calm," reads the headline of the privately-owned daily Al-Misri al-Yawm.
"Cairo explains to the international community the ruling's circumstances," state-owned daily Al-Ahram says on its front page.
The Al-Tahrir daily links the sentence and US Secretary of State John Kerry's visit to the country one day before the ruling was issued.
"The judiciary responds to international interference in Egypt; Kerry tried to interfere in the judiciary so the response came in the form of jailing defendants in 'the Marriot Cell'," the paper says on its front page.
'No justice'
In contrast to the official media's take, social media users have voiced their anger.
The English hashtag #AJTrial is the third top hashtag in the country, and has attracted over 43,000 tweets over the past day, virtually all of them critical of the ruling.
Egyptian Jamal Id (@gamaleid), director of Arabic Network for Human Rights, tweeted: "We did not find one piece of evidence against the Al-Jazeera journalists. They only had different opinions."
Well-known blogger activist "Zainobia" described the verdicts as "shocking" and in another tweet she said "the world is watching" after both the UK and Dutch foreign ministers summoned Egyptian ambassadors in their countries to review the verdicts.
Egyptian journalist Rim Abd-al-Latif (@Reem_Abdellatif) slammed Egypt's justice system. "Perhaps #Egypt wanted the world to know it uses the courtroom for political theatrics. Egyptians already know there is no justice," she said.
Also, on his twitter account, prominent Egyptian writer Ala al-Aswani announced that he would stop writing his weekly article in Al-Misri al-Yawm as "criticism and differing in opinion is no longer allowed. Praise is the only thing allowed at the expense of truth".
Sarah al-Sirjani, another Cairo-based journalist, said she attended most of the trials of the three Al-Jazeera journalists and claims the evidence shown against them but "did not see anything that establishes false news".
Although no official reaction was seen from the Muslim Brotherhood, the group's websites have highlighted international criticism of the ruling.
BBC Monitoring reports and analyses news from TV, radio, web and print media around the world. For more reports from BBC Monitoring, click here. You can follow BBC Monitoring on Twitter and Facebook.