Iran media blame 'foreign plots' for Iraq crisis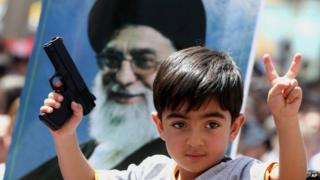 Iranian media have shown a keen interest in events in neighbouring Iraq, with state media trumpeting what they present as Iraqi army progress against the Sunni rebels led by the jihadist Islamic State in Iraq and the Levant (Isis).
Not surprisingly, they have not criticised Prime Minister Nouri Maliki, a Shia ally of the Iranian leadership, for the unrest.
Instead, they have blamed the West, as well as regional Sunni powers such as as Saudi Arabia, Turkey and Qatar, accusing them of trying to impose a government of their liking in Baghdad.
Hardline media outlets had said this is why Iran's government should refrain from co-operating with the US to solve the crisis.
But some reformist papers have suggested co-operation could help Iran assert its influence the region.
'Success' of Iraqi army
Iranian state TV and hardline media have downplayed reports about Isis's steady advance in Iraq. Instead, they have spoken of a "successful" Iraqi army defeating the militants.
"After crushing the Isis terrorists, the Iraqi army is in full control of Diyala province" announced the Keyhan newspaper on its front page at a time when it was still unclear which side had the upper hand.
The daily is the mouthpiece of the office of Iran's Supreme Leader, Ayatollah Ali Khamenei, but such headlines are typical of the way most of Iran's conservative media - including state TV channels - have covered the conflict in Iraq.
Blaming foreign states
Iranian state and conservative media outlets have also painted a picture of a "united Iraq".
They have stressed that extremists do not differentiate between Shia and Sunnis, and accused foreign powers of depicting the conflict as sectarian in order to justify their intervention in Iraqi affairs.
Interviews with Iraqi tribal and religious leaders, as well as ordinary people, calling for a united front against Isis have been broadcast several times a day on various Iranian TV channels.
"Terrorists act upon foreign plots, plots by the Zionists and by the US," one Sunni cleric told the state-run Channel One.
The alleged role of other states in the crisis in Iraq has been a major theme.
"Countries such as Turkey, Saudi Arabia, Qatar, United Arab Emirates and Jordan had an evident and prominent role in supporting the crisis-making terrorist current in Iraq," said an editorial in the hardline daily, Javan, which is close to the powerful Revolutionary Guards.
Conservative commentators have also accused the US of working behind the scenes to undermine Mr Maliki's government.
State media were critical of US Secretary of State John Kerry's visit to Iraq earlier this week.
According to Channel One, Kerry came to "put pressure on Maliki" to form an alliance with Sunni Arab politicians that had been defeated in the Iraqi parliamentary elections in April.
"Iraqis are concerned that the US might take advantage of the current security crisis in Iraq and interfere in the process of the formation of the government," it said.
Iran-US cooperation?
Iran's state and conservative media have also voiced strong objections about any possible security co-operation between Iran and the US.
This theme has become more prominent since Ayatollah Khamenei said in a speech that he "strongly opposed" any US intervention in Iraq.
In an article headlined "Why we are not going to help America in the Iraqi crisis", Javan argued that Iran would not assist the US in its efforts to "undermine Maliki's government".
However, some reformist papers have suggested that Tehran could benefit from working with the Americans.
"Co-operation between Tehran and Washington on curbing and crushing Isis... can provide the opportunity for Iran to further establish itself as an anti-terrorist regional power which supports stability in the region," said Sharq.
The daily suggested any possible collaboration in Iraq could help resolve other differences between the two countries.
BBC Monitoring reports and analyses news from TV, radio, web and print media around the world. For more reports from BBC Monitoring, click here. You can follow BBC Monitoring on Twitter and Facebook.