Israel identifies two suspects in hunt for teenagers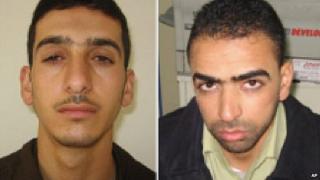 Israel has named two men as suspects in the disappearance of three Israeli teenagers believed abducted in the West Bank earlier this month.
The Shin Bet security service said Marwan Qawasmeh and Amer Abu Aisha were associated with the Palestinian militant group Hamas.
Israel has repeatedly accused Hamas of kidnapping the teenagers, a claim it strongly denies.
Hundreds of Palestinians have been arrested in the hunt for the youths.
Five people have also died in clashes as Israeli soldiers carried out intensive house-to-house searches in the West Bank.
On Thursday, Israeli and Palestinian officials said the two men had been missing since the teenagers disappeared, and that a manhunt was under way.
Shin Bet said both men had served time in Israeli prisons for "terrorist activity" and were from the Hebron area, where the boys disappeared from earlier this month.
Amer Abu Aisha's father told the Agence France-Presse news agency that his son was not involved in the disappearance of the youths.
But he added that he had not seen his son since the day after the teenagers went missing.
Naftali Frenkel and Gilad Shaar, both aged 16, and 19-year-old Eyal Yifrach went missing at a junction near Hebron as they hitchhiked home. Naftali Frenkel holds US-Israeli citizenship.
The leader of Hamas, Khaled Meshaal, reiterated on Thursday that "we do not have information about what happened".
The teenagers' disappearance has triggered one of the most intensive Israeli search operations in the West Bank for years.
Israeli Prime Minister Benjamin Netanyahu has said the incident is a consequence "of the partnership with Hamas", with whom Palestinian President Mahmoud Abbas signed a unity deal in April after years of division.
On Thursday he said he now expected Mr Abbas to "break his pact" with Hamas.