Grief and anger after Israel teenager deaths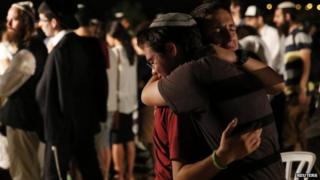 As the sun faded, thousands of mourners walked along dusty paths away from the Modein cemetery where three Israeli teenagers abducted and killed in the West Bank had just been buried.
A memorial service for them had started over an hour late because of the numbers that wanted to attend.
Most of those who made the difficult journey here were religious Jews. Many were young people who identified with Naftali Frenkel, Gilad Shaer - both 16 years old - and Eyal Yifrach, 19.
"We didn't know them but we came to show our support. We felt they were like our brothers, part of our souls," said Noam Reiss, 17, who had mutual friends with the dead seminary students.
"We were broken when we heard what happened last night. We sat together and started crying.
"Now we're here for their families and the Jewish people."
The three Israelis were last seen alive on 12 June at a popular hitchhiking spot in the occupied West Bank, close to the seminaries where they studied in Jewish settlements.
"I stand at these junctions all the time. It could have been me or any of my friends," a 21-year-old seminary student, Dor Levy told me.
"We felt a strong connection to them and this is all just so sad."
With an Israeli army operation to search for the teenagers' killers and target the Palestinian Islamist movement. Hamas, now continuing, there is another concern for Mr Levy.
He is due to begin his military service in two weeks' time.
"My mum said she always prayed that I'd do my IDF [Israel Defense Forces] service in a quiet time but now she worries there will be an escalation," he said.
New settlements?
There were no demands for revenge and retribution at the funeral; the grieving parents sticking to heartfelt messages of their loss and loving recollections of their sons.
However Israel has already vowed that it will make Hamas pay a high price for the students' deaths. Hamas leaders have not said their group was responsible.
After the funeral, the Israeli prime minister headed to his second cabinet meeting in two days to decide a response. By all accounts, discussions have been heated.
Some ministers called for wider Israeli military action against Hamas in the West Bank and Gaza Strip, while others pressed the case for more measured steps to avoid a dangerous flare-up in tensions.
One proposal has been to build a new settlement in the West Bank in honour of the dead Israelis.
Such a move would be highly controversial; settlements are seen as illegal under international law, although Israel disagrees.
Settler leaders attending the funeral in Modein told the BBC that building more Jewish homes in the West Bank would be appropriate.
"We should say to people all over the world this area belongs to the state of Israel," said Davidi Perl, mayor of the Gush Etzion settlement bloc.
"We came back to the state of Israel after 2,000 years in diaspora and we will stay here forever."
'Absolutely barbaric'
Not far from Modein, in Ramallah, the Palestinians' administrative capital in the West Bank, political pressure from Israel is already being felt after the discovery of the teenagers' bodies.
Palestinian leaders deplored the reintroduction of a lapsed policy of destroying suspected militants' homes.
The Israeli army returned to the practice to punish two men from Hebron, Marwan Qawasmeh and Amer Abu Aisha, whom it alleges killed the three Israelis.
One of their relatives described the house demolition as "absolutely barbaric". Another called for the Palestinian President Mahmoud Abbas to end his unpopular security co-ordination with Israeli forces.
This has increasingly led to public criticism of Mr Abbas over the past two-and-a-half weeks of arrests and raids by Israeli soldiers.
Palestinians point to the shooting and killing of six boys and men in clashes.
But there is more support for the president in his refusal to heed Israeli calls to dissolve his new unity government.
This is made up of technocrats and was set up after rival Palestinian factions agreed a reconciliation deal in April.
Israel objects to the inclusion of Hamas which it sees as a terrorist organisation.
Earlier, the head of the Palestinian People's Party, Bassam Salhi, objected to Israeli interference.
"We won't allow Israel to draw the line on relations between the factions and set our agenda," he said.
"We need reconciliation for political reasons and for democratic reasons.
"We want to reconnect the West Bank and Gaza as two areas of a Palestinian state, and we want to restore the laws and behaviour of a democratic system."