Iraqi PM Maliki offers partial amnesty to Sunni insurgents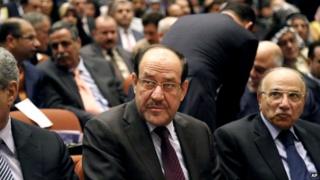 Iraqi PM Nouri al-Maliki has offered an amnesty to some Sunni militants backing a jihadist-led Sunni rebellion in the north and west of the country.
It would apply to those who "return to their senses" and excludes those who shed blood, he said in a TV address.
He also said he hoped to overcome the challenges blocking the formation of a new government in Iraq.
Iraq's first parliamentary session was abandoned on Tuesday after MPs failed to agree on top government posts.
Prime Minister Maliki is under pressure to form an inclusive government in a bid to counter the insurgency led by the Islamic State in Iraq and the Levant (Isis) which has swept through vast swathes of territory over the past month.
'Regional threat'
"I announce the provision of amnesty for all tribes and all people who were involved in actions against the state" but who now "return to their senses," PM Maliki said in his weekly TV address. He said the amnesty excluded those involved in killings,
The unexpected move is thought to be aimed at breaking up the broad alliance of jihadists, Baathist loyalists of the late Saddam Hussein and anti-government tribal elements trying to monopolise power in the Sunni parts of Iraq.
It is not yet clear how the amnesty will be enforced or how many militants will be affected.
Prime Minister Maliki also warned that the declaration of an Islamic State by the Sunni militant group, ISIS, poses a threat to the entire region.
The jihadist group said earlier this week that it was forming an Islamic state, or caliphate, on the territories it controls in Iraq and Syria, and has called on Muslims across the world to immigrate to the area.
It also said it was changing its name to simply the "Islamic State".
Mr Maliki also spoke defiantly against moves by Kurdish leaders to assume full control of the Kurdish autonomous region, saying that nobody had the right to exploit recent developments.
His comments come a day after Kurdish and Sunni Arab MPs abandoned the first session of the Iraqi parliament, depriving it of a quorum to elect a new speaker.
As the leader of the bloc that won the most votes in the April elections, Mr Maliki has demanded the right to attempt to form a governing coalition.
But Mr Maliki is widely blamed for precipitating the crisis by monopolising power and marginalising the Sunnis.
He has so far resisted calls from his Sunni, Kurdish and Shia opponents to step down because of his handling of the current security crisis.