Tensions simmer in East Jerusalem over teenagers' deaths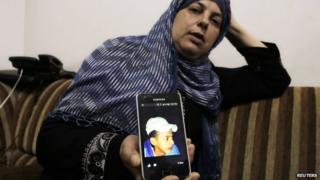 It was in a woodland beauty spot on the outskirts of Jerusalem that Israeli police found the charred corpse of a 17-year-old Palestinian.
Mohammed Abu Khdair had gone missing only hours earlier.
His relatives said he had got up early for dawn prayers and was heading for the mosque in his neighbourhood of East Jerusalem. He was seen being bundled into a van.
"Neighbours told me someone was kidnapped," his mother Suha told the BBC.
"I asked them to check the mosque and I called my son's phone. It was switched off. I kept on calling but my son was silent."
"My son is only 17. He's a peaceful boy. He never caused trouble and everyone loved him."
There were reports that the same van was used to make an earlier abduction attempt.
Furious response
The immediate assumption was that the murder of Mohammed was in revenge for the killing of three Israeli teenagers whose bodies were found in the West Bank on Monday.
Many speculate that Jewish settlers in East Jerusalem were involved.
In the Shufat area, there was a furious response. Palestinians hurled stones at heavily-armed Israeli police and began ripping up shop fronts for ammunition. There were attempts to destroy shelters belonging to the Israeli tramline.
Police responded with rubber bullets and tear gas. Snatch squads were deployed to make arrests.
"We have to stop this happening again. It's between the Palestinian people and the Jewish people," said a young man, Samer.
"We have nobody here to protect us. The Israeli police are just here to protect the settlements," said his friend, Saif. "The settlers come to attack us all the time. They try to push us over the edge. Especially in Jerusalem."
East Jerusalem is often tense. It was captured by Israel in the 1967 war and later annexed in a move that is not recognised internationally.
Since then large numbers of Jewish settlers have moved in. Their presence is considered illegal under international law although Israel disputes this. It sees the entire city of Jerusalem as its capital.
Fresh cycle
Palestinians want East Jerusalem as the capital of a future independent state.
The Palestinians who live in East Jerusalem have residency rights in Israel but are not citizens.
The Israeli police insist they are taking the case of Mohammed Abu Khdair seriously and that a thorough investigation is under way. They said they began a search for him as soon as he was reported missing.
"Immediately roadblocks were set up and we searched across the capital. About an hour and a half afterward a body was found in the Jerusalem Forest," police spokesman Micky Rosenfeld said.
"The main direction that we are looking into at the moment is to see whether the incident was criminal or nationalistic."
Most Palestinian residents of East Jerusalem have already made their minds up about the motivation for the murder.
Tensions are now set to rise again particularly with a funeral expected to take place on Thursday.
Locals say they are worried this death could trigger a new cycle of violence.