Profile: Ukraine's new defence minister Valeriy Heletey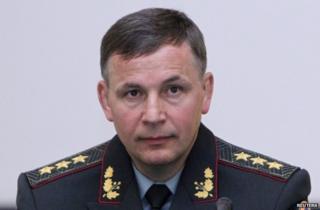 Ukraine's new defence minister, Valeriy Heletey, is a former police officer who has been responsible for guarding the country's most important officials and installations since March 2014.
He held the same position as head of the State Guard Directorate (Udo) in the late 2000s under the then President, Viktor Yushchenko.
Colonel-General Heletey took an active part in Kiev's offensive against pro-Russian separatists in eastern Ukraine. On 14 May, he personally led a special operations unit that pushed militants back from the strategically important TV tower on a hill overlooking the separatist stronghold of Sloviansk.
Despite his direct involvement in the hostilities, questions have been raised about whether Valeriy Heletey has enough military experience and is suitable for the post of defence minister.
Appointment
Parliament approved Gen Heletey's appointment as minister on 3 July, with the support of 260 MPs in the 450-seat chamber.
In his speech presenting his nominee to parliament before the vote, President Petro Poroshenko said Gen Heletey possessed the "decisiveness and persistence" to create an "army against which nobody will think of aggression".
Noting that Valeriy Heletey "not only trained to be at war but has been at war himself", Mr Poroshenko said he understood what "hybrid war" was and knew how to win it.
In his brief speech to parliament after the vote, Gen Heletey vowed to restore Ukraine's territorial integrity and recover Crimea: "I am convinced that Ukraine will win. Believe me, there will be a victory parade: in Ukraine's Sevastopol."
Career
Born in the Mukacheve district of the western Transcarpathian region in 1967, Valeriy Heletey started his career in the interior ministry in 1988 after completing his army service.
He graduated from the Ivano-Frankivsk specialised police school in 1990, and from the Ukrainian internal affairs academy in 1994. By 2006, he had risen to head the Kiev directorate for fighting organised crime.
Valeriy Heletey was appointed head of the presidential secretariat's main service for the law-enforcement agencies in 2006, and in May of the following year became head of the Udo, the government's agency for protecting senior officials and key installations.
It was widely believed that he owed his appointment to the patronage of Mr Yushchenko's chief-of-staff, Viktor Baloha, who also hailed from the Transcarpathian region.
Valeriy Heletey was dismissed from the Udo after President Yushchenko replaced Mr Baloha in 2009.
Doubts
After it became known on 2 July that President Poroshenko would be nominating Valeriy Heletey for the post of defence minister, questions were asked about his suitability for the post in the light of his law-enforcement background.
Former Defence Minister Anatoliy Hrytsenko dismissed him as a "policeman who was promoted from colonel to colonel-general in 18 months" and suggested that there were "50 candidates for the post of defence minister who are stronger and more professional than Heletey".
Meanwhile, prominent journalist Yuriy Butusov suggested that President Poroshenko had chosen a "safe" candidate rather than a "patriotic" or "professional" one.
"The problem is not even that Heletey is entirely distant from the armed forces and defence ministry. It is that he built his career not on his intellect and leadership qualities, but on his sense of duty and loyalty."
BBC Monitoring reports and analyses news from TV, radio, web and print media around the world. For more reports from BBC Monitoring, click here. You can follow BBC Monitoring on Twitter and Facebook.