Suspects held over Palestinian Mohammad Abu Khdair murder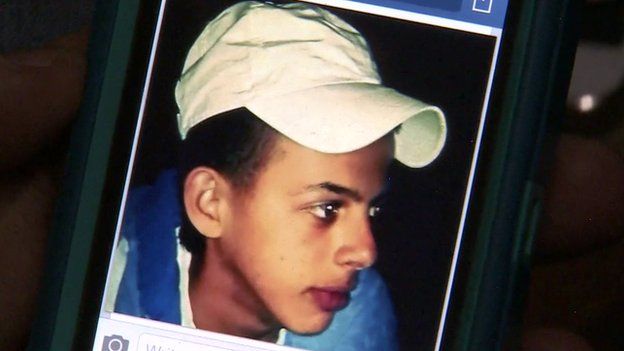 A number of Jewish suspects have been arrested over the murder of Palestinian 16-year-old Mohammad Abu Khdair, whose death sparked days of violent protests.
Israeli police told the BBC that the teenager, abducted on Wednesday morning and found dead hours later, was killed "because of his nationality".
He had reportedly been burnt to death.
Earlier, the bodies of three murdered Israeli students were found. Mohammad Abu Khdair's family believe he was murdered in revenge.
Israel's Shin Bet security agency issued a brief statement confirming the arrests, and said the suspects were being questioned at one of their facilities.
"In the wake of intelligence and operational information, the Israel Police and the ISA (Shin Bet) this morning arrested several Jewish suspects regarding the 2 July abduction and murder of Mohammad Abu Khdair," the statement said.
The agency did not comment on any possible motive for the killing, saying details of the case were subject to a judicial gag order.
Several Israeli media outlets have reported that one of the six suspects has confessed to the killing.
The reports also claimed that the individual had given police information about the other suspects, but this has not yet been confirmed by officials.
Israeli Prime Minister Benjamin Netanyahu said Israel would respond to the killings "with a firm hand".
"We do not differentiate between the terrorists," he said. "We will not allow extremists from wherever they come to ignite the region and shed more blood."
Analysis: James Reynolds, BBC News, Jerusalem
Israel has found itself carrying out two high-profile manhunts: first for the killers of the three Israeli teenagers found dead on Monday; second for the killers of the Palestinian teenager whose body was found two days later.
It may be that this second manhunt has achieved more results than the first. The arrest of a number of suspects, described as Jewish, suggests that Mohammed Abu Khdair's murder may have been politically motivated. But we can't yet know for sure. Israel's authorities have banned the reporting of any more details of the suspects' identities.
Palestinians have not immediately celebrated news of the arrests. The Palestinian people largely mistrust Israel's judicial system and its police force. They see Israel's institutions as instruments of occupation - not justice. "The arrests don't make me happy," said Hussein Abu Khdair, Mohammed's father, "Nothing will bring him back."
The parents of the three Israeli teenagers continue to await further word from the hunt for their sons' killers.
Thousands attended Mohammad Abu Khdair's funeral on Friday near the family's home in the Shufat district of East Jerusalem.
Hundreds of Palestinian youths clashed with Israeli police in East Jerusalem before and after the funeral.
Huge controversy was sparked when mobile-phone footage emerged showing two officers repeatedly beating a teenager suspected of taking part in the violence.
The teenager was Tariq Khdair, a 15-year-old Palestinian-American who is also a cousin of Mohammad Abu Khdair.
He was bailed after appearing in court on Sunday, accused of attacking police officers during the unrest.
Mohammad Abu Khdair was seen being forced into a car in Shufat early on Wednesday and his body was found later in a forest in West Jerusalem.
A post-mortem examination was carried out by Israeli doctors, with a senior Palestinian medical official in attendance.
The examination results have not yet been released.
But Palestinian attorney-general Mohammed al-A'wewy was quoted as saying fire dust had been found in his respiratory canal, meaning the victim had "inhaled this material while he was burnt alive".
Mohammad Abu Khdair, who had also suffered a head injury, had burns to 90% of the body, it was reported.