Iraqi MPs postpone electing leaders as violence continues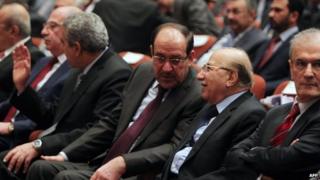 Iraqi MPs have again delayed a session needed to elect a new leadership in the face of a jihadist-led Sunni rebellion in the north and west.
Iraq's politicians have been urged to unite but paralysis has continued.
The session, scheduled for Tuesday, has been postponed for a month.
Meanwhile a senior general, Maj Gen Najm Abdullah al-Sudani, was "martyred on the field of battle" in fighting to the west of Baghdad, said a statement from Prime Minister Nouri Maliki.
Parliament's first meeting last week had been due to elect a speaker, but ended after less than two hours when Kurdish and Sunni Arab MPs walked out, depriving it of a quorum.
As the leader of the bloc that won the most votes in April, Mr Maliki has demanded the right to attempt to form a governing coalition.
But he has faced calls from his Sunni, Kurdish and Shia opponents to step down because of his handling of the current security crisis, as well as what they say are the sectarian and authoritarian policies he has pursued during his previous two terms in office.
Iraq's most senior Shia cleric, Ayatollah Ali al-Sistani, had called on all parties to agree on the appointments before parliament convened.
---
Iraq's constitutional timetable
According to Iraq's constitution, the Council of Representatives must elect a new speaker during its opening session
It must choose a president within 30 days of electing a speaker
Within 15 days of the president's election, the largest bloc must nominate a new prime minister
Under a de facto power sharing agreement, the speaker is a Sunni Arab, the prime minister a Shia Arab, and the president a Kurd
After the 2010 elections, it took nine months to form a new government
---
Also on Monday:
Security and medical sources said that six people were killed and 14 others injured when a suicide bomber detonated a car at a checkpoint leading to the Kadhamiyah district of central Baghdad.
The leader of a Shia militant group that kidnapped five Britons in Iraq in 2007 - and killed four of them - apologised in an interview with the BBC.
Police in Anbar province said that several Sunni armed groups have removed barriers, surveillance towers, and barbed wire on the border between Iraq and Syria
Maj Gen Sudani was killed in fighting in the Ibrahim bin Ali area west of Baghdad where government troops have been facing Sunni militants who seized the towns of Falluja and Ramadi in January.
The central government in Baghdad has lost control of vast swathes of further territory over the past month, and last month the Islamic State in Iraq and the Levant (Isis) declared the establishment of a "caliphate" covering the land it holds in Iraq and Syria.
The United Nations has said at least 2,417 Iraqis, including 1,531 civilians, were killed in "acts of violence and terrorism" in June.
The figure does not include fatalities in the western province of Anbar, where the Iraqi authorities say 244 civilians died.