Iran needs more nuclear enrichment capacity - Khamenei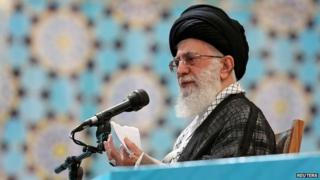 Iran's Supreme Leader Ayatollah Ali Khamenei has said that Iran could eventually need tens of thousands of centrifuges for its nuclear programme.
Within five years, he said, Iran would need far more than the 10,000 that world powers wanted to limit it to.
Nuclear negotiations are continuing between Iran and the P5+1 group, with a deadline of 20 July for an agreement.
But France's foreign minister has hinted at growing differences between the Western countries in the talks.
Laurent Fabius said the P5+1 group - the US, France, Britain, Russia, China and Germany - had previously been "very homogeneous" in their dealings with Iran.
But "in recent days representatives in the negotiations have put forward a certain number of different approaches", he told a parliamentary committee in Paris on Monday.
He did not explain the differences but he did say that France "would like the unity of the 5+1 to be preserved".
World powers suspect Iran is seeking nuclear weapons - a charge Iran strongly denies. Iran insists it is enriching uranium to fuel power plants and for medical needs, and wants international sanctions to end.
---
Iran nuclear deal - timeline
20 January - First day of implementation of interim nuclear deal. IAEA begins verifying Iranian compliance; P5+1 and EU suspend sanctions
18 February - Iran and P5+1 begin talks in Vienna to find a "comprehensive solution"
20 July - Expiry of six-month interim period for finding comprehensive solution. If not renewed by mutual consent, P5+1 may increase sanctions
November - Iran and P5+1 aim to "conclude negotiating and commence implementing" the second step of any comprehensive solution
---
Last month, Mr Fabius said that Iran must restrict its number of centrifuges to just a few hundred.
Negotiators from the US, UK, France, Russia, China and Germany (P5+1) in Vienna want Iran to scale back enrichment to ensure the uranium cannot be used in weapons.
In his comments on Tuesday, Ayatollah Khamenei also expressed strong support for Iran's negotiating team in Vienna, a boost to moderate President Rouhani, who has been accused by hardliners of giving to much ground on the nuclear issue.
Both sides are hoping to build on an interim deal agreed in Geneva in November that saw Iran curb enrichment in return for sanctions relief.
But progress since the Geneva deal has been slow, with the last round of talks in May proving unfruitful.
Mr Fabius said "none of the main issues" had been resolved.
Differences remain over how much uranium enrichment capacity Iran should be allowed to keep, as well as other issues.
Iranian officials have suggested that the deadline could be extended for another six months to allow negotiations to continue.