Amran : Thousands flee fighting in north Yemeni city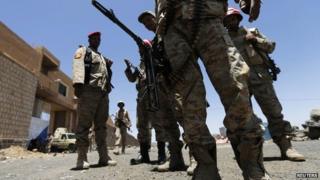 Ten thousand families have fled the north Yemeni city of Amran to escape a battle between Zaidi Shia rebels and the military, the Red Crescent says.
A further 5,000 families are said to be trapped inside the city, about 50km (30 miles) north of the capital Sanaa, after rebels overran several areas.
The clashes erupted last week after a ceasefire collapsed and troops reportedly attacked rebel positions.
Medics and officials said at least 60 people had been killed and 180 wounded.
The rebels, known as Houthis, have staged periodic uprisings over the past 10 years in an effort to win greater autonomy for their strongholds in the far north.
In February, they seized areas of Amran province in fighting that left more than 150 people dead, and at least 120 others were reportedly killed in another flare-up of violence in June.
'Call for help'
The Yemen Red Crescent Society issued a "call for help" on Tuesday on behalf of the civilians trapped by the fighting in Amran.
A medic at the city's main hospital told the AFP news agency that the bodies of 60 people had been brought to the hospital since Saturday.
However, local officials and witnesses told Reuters that more than 200 people had been killed, 100 of them on Tuesday alone as the rebels overran the city. Dozens of bodies were lying in the streets, they said.
The Houthis said their fight was against members of the Sunni Islamist Islah party and that they had no intention of attacking Sanaa.
Amran has traditionally been a stronghold of the Bani al-Ahmar, a powerful tribe whose members hold prominent positions in Islah, the armed forces and government.
"Justice and right have prevailed, the underprivileged sons of Amran have prevailed," said Mohammed Abdul Salam, a spokesman for the Houthis, said in a statement.
"The battle was swift and beyond their expectations, and victory, with God's grace, was massive," he added.
The UN envoy to Yemen, Jaman Benomar, said he was "deeply concerned about the continuing violence in Amran and other areas of the north", according to the official Saba news agency.
Mr Benomar stressed "the need for all parties to work toward a definitive cessation of violence through a political process" and reiterated "the need to develop a peace plan for the north".
The Houthis blamed the government for breaking ceasefire agreed on 23 June, saying army units loyal to Islah had begun advancing in Jawf province. The government said the advance had been prompted by the failure of Houthis to vacate positions as they had promised.