Jeremy Bowen: Israel and Hamas not ready for ceasefire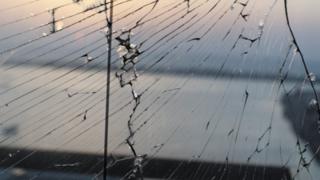 Wars between Hamas and Israel tend to finish with some sort of ceasefire.
Factors influencing the timing of a deal include the amount of blood spilt, and the level of international pressure on both sides to make a deal.
It looks as if that point has not yet been reached. Ceasefires involve a certain loss of face, as leaders glide away from some of the rhetoric they threw around when the guns started to fire.
Neither side is ready for that yet. This conflict may have to get worse before the pressure for a ceasefire becomes unanswerable.
Noise of war
As I write this I can hear a lot of Israeli air activity over Gaza, not just the high whirring noise of the ever-present drones but also the throaty roar of the jet engines of Israeli warplanes.
Some loud explosions, strikes by air or by field artillery, have rumbled over Gaza, as well as the drumbeat of naval gunfire from Israeli ships a few miles offshore.
My room overlooks the sea, and the sound thuds in my ears.
Hamas has been making more threats. It says it will increase its attacks on Israel, using new and more powerful missiles.
Both sides claim the right of self-defence. As ever, however, Israel is killing many more than Hamas.
That is not because of any lack of intent on the side of Hamas and the other militant groups in Gaza. It is because the Israeli state is massively more powerful, and spends millions on civil defence.
For many years now, every new Israeli home has been built with a blast-proof safe room. In Sderot, the battered Israeli town closest to Gaza, even the bus stops look like concrete block houses.
Israel also has the effective Iron Dome anti-missile system, largely paid for by the United States.
Lack of mediators
An extra complication is that ceasefires need mediators, and there is no-one obvious to do the job. The Americans have offered, but would still need to use a third party, unless they lift their ban on direct contact with Hamas.
The last round of fighting between Hamas and Israel in 2012 ended with a ceasefire deal mediated by the President of Egypt, Mohammad Morsi.
He was thanked warmly for his efforts by the then US Secretary of State, Hillary Clinton. She is out of office now, eyeing a run on the White House. Mr Morsi was removed from power in a military coup a year ago, and is in jail.
Israel insists it will stay on the attack to protect its people and to force Hamas and other militant groups to stop firing missiles into Israel.
Hamas has laid down conditions for a ceasefire, including an immediate end to Israeli attacks, and the release of Palestinian prisoners who have been re-arrested after being freed in exchange for the freedom of the Israeli hostage, Gilad Shalit.
If all this sounds familiar, that's because it is. So far the crisis has felt very similar to the one in 2012, when Hamas and Israel last fought in and around Gaza.
Attritional struggle
Small wars break out between the two sides regularly. This one has been brewing for months, long before the kidnap and murder of three Israeli youths and the revenge killing of a Palestinian teenager.
The reason is that the underlying political realities of the conflict between Israel and the Palestinians have not been settled.
Hamas rejects any peace talks with Israel.
The Israelis were criticised, indirectly, by their allies in the White House and state department after the collapse of the last round of negotiations with Fatah, the other main Palestinian faction.
It seems clear that the periodic small wars between Hamas and Israel will keep happening, like a gory Groundhog Day, until the conflict between Palestinians and Israelis is at least made safe and stable, if not settled outright.
If that doesn't happen, the chances are that the fights will break out more often, morphing into an attritional struggle that neither side would win.
The wider Middle East is highly unstable. That means a greater chance of the conflict in and around Gaza spreading its poison further afield.