Gaza: Israel hits security HQ and rocket site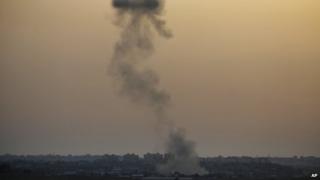 Israel has carried out overnight air strikes against Gaza's security headquarters and police stations, in the heaviest bombardment since operations began on 8 July.
It also said its troops had carried out a brief raid against a rocket-launching site in the coastal territory.
Israel added that Palestinian militants fired about 90 rockets from the Gaza Strip into its territory on Saturday.
At least 159 Palestinians have died in the air strikes, Gaza officials say.
They are said to include 17 members of one family who died in an Israeli missile strike on Saturday evening.
Israel says it is targeting Hamas militants and facilities, including the homes of senior operatives. However, the United Nations has estimated that 77% of the people killed in Gaza have been civilians.
The UN Security Council called for a ceasefire and peace talks on Saturday. It is the first time since Israel's offensive began that they have issued a statement, with members previously divided on their response.
'Exchange of fire'
Early on Sunday, Israeli air strikes destroyed most of the security headquarters and police stations run by Hamas Islamist militants, the BBC's Rushdi abu Alouf in Gaza reports.
The homes adjacent to the security compound suffered extensive damage, as the headquarters are located in the densely populated neighbourhood of Tel al-Hawa in south Gaza, our correspondent adds.
The Israel Defense Forces (IDF) said troops also raided a site used to fire long-range rockets at Israel.
"The mission was accomplished," the IDF wrote on its official Twitter account, adding: "During the mission, there was an exchange of fire. Four soldiers were lightly injured and all returned home safely."
It is believed to be the first time Israeli troops - thought to be naval commandos on this occasion - have entered Gaza since Israel launched Operation Protective Edge, which it says is aimed at stopping rocket attacks and destroying Hamas' capabilities.
The IDF said it was dropping leaflets over the city of Beit Lahiya in northern Gaza, warning residents to seek shelter from planned air strikes later on Sunday.
"We do not wish to harm civilians in Gaza, but these civilians must know that remaining in close proximity to Hamas terrorists and infrastructures is extremely unsafe," the IDF said.
The IDF says it has so far struck some 1,320 "terror" sites across Gaza, while Hamas have launched more than 800 rockets at Israel.
Israel's Iron Dome missile shield intercepted four rockets on Sunday morning above central and southern Israel, Israeli newspaper Haaretz reports.
At least five Israelis have been injured this week by rocket and missile attacks, two of them seriously, but no Israelis have been killed by the attacks.
---
At the scene: Jeremy Bowen, BBC Middle East editor, Gaza
Wars between Hamas and Israel tend to finish with some sort of ceasefire.
Factors influencing the timing of a deal include the amount of blood spilt, and the level of international pressure on both sides to make a deal.
It looks as if that point has not yet been reached. Ceasefires involve a certain loss of face, as leaders glide away from some of the rhetoric they threw around when the guns started to fire.
Neither side is ready for that yet. This conflict may have to get worse before the pressure for a ceasefire becomes unanswerable.
Neither side ready for ceasefire
---
At the scene: James Reynolds, BBC News, Tel Aviv
Shortly after 21:00 on Saturday, we heard loud rocket sirens. My colleagues and I quickly ended a live broadcast and hid next to a building. Several policemen decided not to run for cover - they spent the time leaning on a wall, scrolling through their phones.
Minutes later, through the night sky, we watched two Israeli interceptor missiles streak through the sky. We heard several loud explosions - the sound of interceptions.
What we saw is evidence that Palestinian militants are still able to fire their rockets towards Israeli towns and cities. Senior IDF sources say that they believe that militants in Gaza still possess thousands of rockets.
For that reason, some Israelis call for a ground invasion of Gaza.
---
On Saturday evening, four Israeli missiles hit a three-storey house in Gaza belonging to police chief Tayseer al-Batsh, a Gaza health official said.
The strike killed 17 members of the same family, while Tayseer al-Batsh was wounded but survived, officials added.
A witness said: "We were praying in a mosque adjacent to the targeted house and suddenly we heard a huge explosion followed by another explosion."
Hamas spokesman Sami Abu Zuhri described the raid as "a heinous crime", adding: "Israel will pay a heavy price for its aggression against the Palestinian people."
Palestinian sources say more than 1,000 people have been injured since Israel began its operation six days ago.
Rocket fire and air strikes increased after the abduction and killing of three Israeli teenagers in June, which Israel blamed on Hamas and which led to a crackdown on the group in the West Bank. Hamas denied being behind the killings.
Tensions rose further after the suspected revenge killing of a Palestinian teenager in Jerusalem on 2 July. Six Jewish suspects were arrested over the youth's abduction and murder.
Israel and militants in Gaza fought an eight-day war in November 2012, which ended with a truce.
---
Israel's Iron Dome missile shield
Enemy fires missile or artillery shell
Projectile tracked by radar, data relayed to battle-management-and-control unit
Data analysed and target co-ordinates sent to the missile firing unit
Missile is fired at enemy projectile