Syria conflict: UN authorises aid convoys to rebel-held areas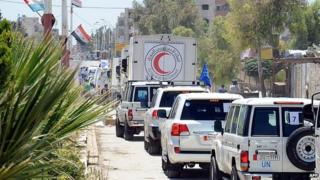 The UN Security Council has unanimously approved a resolution on Syria allowing aid convoys to go into rebel-held areas without government approval.
Until now, almost 90% of UN humanitarian aid in Syria has gone to people in government-controlled areas.
It is hoped the new resolution will bring urgently needed supplies to at least 1.3 million people.
However, correspondents say it is not clear who will protect the aid convoys inside Syria.
The Syrian government has warned that it would regard such deliveries as a violation of national sovereignty.
The BBC's Nick Bryant at the UN says the resolution was weaker than Western nations had hoped for because of the threat of vetoes from Russia and China.
Its sponsors originally wanted blanket access across Syria's borders and for the resolution to come with the threat of sanctions in the event of non-compliance, he said.
But under the agreed wording, aid shipments will travel through four different border crossings - two in Turkey, one in Iraq and another in Jordan.
All three neighbouring countries already host large numbers of refugees from the four-year conflict.
UK Foreign Secretary William Hague said the resolution would put an end to what he called President Bashar al-Assad's "stranglehold" on aid routes.
"Many vulnerable communities remain completely besieged because of the regime's starve-or-surrender tactics," he said.
"This process of cross-border aid delivery must start without delay."
The Syrian government says it is fighting a war against "terrorists".
Our correspondent says a previous humanitarian resolution passed by the security council in February was ignored by the Syrian government and it is unclear how the latest one will be implemented on the ground.
Although the convoys do not require the permission of the government, it will be warned when convoys cross the borders, he adds.
Meanwhile, reports from inside Syria say that the jihadist group Isis has taken complete control of rebel-held areas in the eastern city of Deir al-Zour.
The group recently captured cities and towns in northern Iraq and declared a caliphate or Islamic state that straddles the two countries.