Gaza ceasefire between Hamas and Israel begins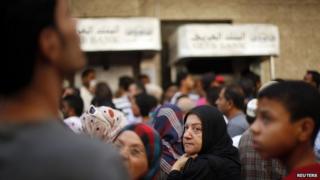 A five-hour humanitarian ceasefire between Israel and Palestinian militant group Hamas has begun in the Gaza Strip after nine days of fighting.
Correspondents say people are queuing outside banks and traffic is building up as they rush to get supplies.
Fighting continued until the truce came into effect at 10:00 local time (07:00 GMT).
Officials in Gaza say Israeli raids have left 227 Palestinians dead. Hamas rocket attacks have killed one Israeli.
Israel launched its military operation on 8 July with the stated objective of halting Palestinian rocket attacks on Israel.
However, the United Nations says most of those killed in Gaza have been civilians.
Israel accuses Hamas of hiding its military infrastructure within the civilian population.
'Tragic outcome'
The ceasefire, due to last until 15:00 local time, was requested by the UN and other international organisations.
The UN's relief operation in Gaza said it would use the temporary truce to step up emergency work in the Palestinian territory. Spokesman Chris Gunness said providing water, food and hygiene kits were the main priorities.
A senior Israeli security official told the BBC the military would "respond and intercept immediately" if attacked during the ceasefire.
Just minutes before the truce began, an Israeli tank hit a house in southern Gaza, killing three people, the AFP news agency reports.
The Israeli military earlier confirmed it had carried out dozens of air strikes on targets in Gaza since midnight, while Palestinian militants continued to fire rockets at Israeli cities.
Several of the rockets were intercepted by Israel's Iron Dome missile shield, with the rest striking without causing casualties.
The Israeli military also said it had thwarted the infiltration into Israel by 13 Hamas gunmen via a tunnel from southern Gaza towards the southern Israeli kibbutz of Sufa on Thursday morning.
Army spokesman Lt Col Peter Lerner said the gunmen were 250 metres (820ft) inside Israel when they were intercepted by Israeli aircraft. He said at least one militant was believed killed and that the others escaped back into Gaza.
Reports in Israeli media say Hamas has presented a list of 10 prerequisites for a 10-year truce with Israel.
The demands reportedly include the easing of the economic blockade on Gaza and an end to Israeli strikes on the territory, as well as the construction of an airport and seaport.
A blockade by Israel and Egypt has been in place since border restrictions were tightened after Hamas ousted rival Fatah from Gaza in 2007, a year after Hamas won parliamentary elections.
Meanwhile, Israeli President Shimon Peres has apologised for the deaths of four Palestinian children killed when Israeli artillery fire hit a beach near Gaza City on Wednesday.
"I think it was unintentional and we are really sorry to see four children being killed," he said in an interview with the BBC.
He said an evacuation warning had been issued ahead of the air strike, which was targeting "a great concentration of weapons" in the area.
The Israeli military said it was "carefully investigating" the incident, adding that "based on preliminary results, the target of this strike was Hamas terrorist operatives".
Israel says it has carried out more than 1,960 attacks on Gaza since 8 July, while militants have fired some 1,380 rockets at Israel.
The Israeli military has mobilised tens of thousands of troops on the border with Gaza amid speculation that a ground invasion could be launched.
The UN says at least 1,370 homes have been destroyed in Gaza and more than 18,000 people displaced in recent hostilities.