Why Egypt remains key to Gaza-Israel truce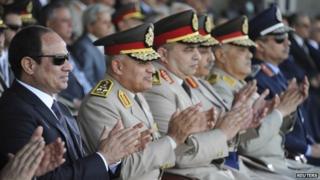 Can Egypt deliver a ceasefire between Israel and Hamas?
Critics say Egypt was slow to respond to the current crisis, and its initial efforts have faltered.
Add to that the open mistrust being demonstrated by the key Palestinian faction - Hamas - and it does not look like a winning formula.
But the warfare looks certain to give way to a ceasefire. And Cairo is still the most likely broker.
"I don't see anyone else who can play that role," said the Arab League Secretary General, Nabil al-Arabi, a former foreign minister of Egypt. "If anyone else wants to help let him try."
Given the decades of failure in peacemaking efforts between the Israelis and Palestinians, there may not be too many takers.
'Difficult to engage'
During the last major eruption of violence between Israel and the Hamas - in November 2012 - Egypt played its traditional role as mediator.
At that time it was well placed to broker a truce.
The President, Mohammed Morsi, was an Islamist with fraternal ties to Hamas - an offshoot of his Muslim Brotherhood.
Now Mr Morsi is in jail, and the new Egyptian authorities regard Hamas as a terrorist group. That is certainly a complication.
"It's very difficult for Egypt to engage with Hamas as it used to," says H A Hellyer, of the Royal United Services Institute (Rusi).
"Egypt is engaged in what it considers to be a war on terror, which involves Hamas, as part of the Muslim Brotherhood. So the population of Gaza is collateral damage in two wars on terror - Israel's and Egypt's."
When news of Egypt's ceasefire proposal emerged on Monday night it came as a surprise to many - apparently including the leadership of Hamas.
These days Egypt has better relations with Israel than with the Islamists who run Gaza.
Some analysts believe that - initially at least - Cairo was happy to see Hamas under attack.
There is little doubt that Egypt's security establishment would like to see Hamas crushed, as it has crushed the Brotherhood.
But Egypt cannot afford to wash its hands of Hamas.
If someone else manages to do a deal - without Egypt - that would dent the prestige of the new Egyptian President, Abdul Fattah al-Sisi.
Fractured leadership
Hamas is unlikely to sign up to anything without the endorsement of its regional ally, Qatar.
But Egypt will not include the Qataris because of their support for the Brotherhood.
The US Secretary of State, John Kerry, is expected to act as a go-between.
One of the difficulties is securing a truce is that the Hamas leadership is fractured, physically and politically.
Some senior figures are in hiding and others are in exile.
"There are differences within Hamas," said one Egyptian official. "We don't think [exiled political leader] Khaled Meshaal can control the leadership in Gaza or the military wing. We can't have a conversation with every Jack, Joe and Harry."
He believes the deal will be done "when Israel has finished what it wants to finish, and when Hamas has come to the point of collapse". That may not take too long.
Gaining momentum
The Arab league's secretary general believes that Hamas will agree to the Egyptian proposal - with some crucial extras.
One of their key demands is the opening of Gaza's borders, ending blockades by both Israel and Egypt.
Even if a ceasefire is hammered out, Mr Arabi believes it will not last unless there is political progress towards an independent Palestinian state.
"Even if this truce holds, in a couple of months we will find something else."
"The message for the outside world is that what we need now is an end to [Israel's] occupation, to have the two state solution."
After a shaky start it is clear that diplomatic efforts are gaining momentum.
The Palestinian Authority President, Mahmoud Abbas is already in Cairo, along with delegations from Qatar and Israel.
Israeli air strikes have killed more than 200 Palestinians in the past 10 days - more than 80% of them civilians, according to the United Nations.
But Israel moved adroitly to agree to the ceasefire soon after it was proposed, in contrast to Hamas.
Next time a deal is put forward, Hamas may have little real choice but to sign up - or bear the blame for further bloodshed alone.