Black Smoke over the Castle of Asparagus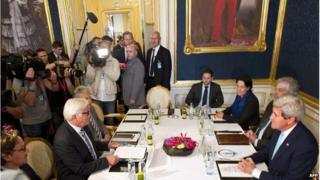 As the deadline to reach a deal over Iran's nuclear programme is extended, BBC Persian's Amir Paivar reports from the luxury Vienna venue where journalists awaited an announcement.
When the Pope dies or steps down, a group of Cardinals convene in St Peter's Basilica in the Vatican City to elect his successor.
Outside huge numbers of Catholic followers gather in the St Peter's plaza awaiting the verdict of cardinals. If they elect a new Pope, white smoke appears from the chimney of the Sistine Chapel telling the people of the vote, and if there is no consensus, black smoke.
For over two weeks, reporters from Iran's provincial Khorasan newspaper to world-renowned correspondents of international radio and television channels camped outside Palais Coburg in Vienna awaiting the verdict for a final deal between Iran and six world powers over Tehran's controversial nuclear programme.
At the same time, in the magnificent rooms of Palais Coburg - a 19th-Century palace nicknamed "the Castle of Asparagus" for its central portico with freestanding columns - dozens of diplomats from the US, Russia, China, Britain, France, Germany and the European Union met their counterparts from Iran to draft a final version of what is dubbed the "deal of the century".
Dawn-to-dusk
There was no white smoke over the Castle of Asparagus on Friday.
With the deadline of 20 July only two days away, all parties agreed to extend the talks for another four months as they see (as Barack Obama put it) "real progress", but say they still have "very significant gaps".
Based on the blueprint agreed in Geneva last year, Iran would accept a significant limitation of its nuclear programme in return for substantial sanctions relief.
Back in November the foreign ministers of Iran and five members of UN Security Council plus Germany, brought together by European Union foreign policy chief Catherine Ashton, agreed to temporarily implement a preliminary version of the deal and keep negotiating for a final one.
The interim agreement eventually came into effect on 20 January, capping parts of Iran's uranium enrichment operations in return for some limited sanctions relief while talks continue.
The two sides settled on a six-month deadline for talks, to be extended if there was progress but no final deal.
The West accuses Iran of attempts to develop a military nuclear capability, but Tehran says its programme is for generating electricity only.
Over the past few years, the US and EU have imposed crippling sanctions on Iran's energy, financial and industrial sectors to force it abandon its nuclear ambitions.
In this round of talks, the sixth in a row, armies of diplomats, lawyers and sanctions experts met from dawn to dusk, painstakingly going through each and every paragraph of the deal word by word, trying to make sure this would be a water-tight deal neither side dares backtrack on.
Some, including Iranian Foreign Minister Mohammad Javad Zarif have not been home for three weeks now.
Taboo no more
These nuclear talks opened the door for direct dialogue between Iran and the US for the first time in over 30 years.
Casual frequent tete-a-tetes between Iranian and American officials would have been unimaginable and taboo only two years ago.
Unlike previous negotiations, the talks that started in 2013 have made "real progress".
Western diplomats attribute this not only to a policy shift under President Hassan Rouhani, but also the impeccable quality of his negotiating team.
"They are very tough negotiators and their English is very good," said a senior US administration official.
"They are all educated either in the US or the UK," said another official. Foreign Minister Zarif, for example, got both his post-graduate degrees from the University of Denver.
US Secretary of State John Kerry stopped by for two days last weekend, meeting his Iranian counterpart four times in an attempt to salvage the deal.
While in the ground floor bar of the Coburg hotel, female Iranian journalists wearing their trademark headscarves churned out reports from the talks, alongside their American counterparts who sipped on expensive wines, tweeting away the story to what sounded almost like house music in the background.
Every now and then, an Iranian diplomat, wearing a distinctive collar-less shirt and of course no tie, shows up in the lobby looking for an Iranian reporter for a private chat at a quiet corner next to the hotel's signature Wine Archive, possibly sharing a tip or two about the negotiations taking place in the elegant, high-ceilinged, chandelier-decorated rooms above.
It could not get more surreal than when a rich Russian oligarch-like guest with his Barbie Doll-esque companion checked in to the hotel, as a trimly bearded Iranian foreign ministry official was talking to the staff at front desk.
The rooms start at $900 a night and go up to $3,600 if you choose to stay in a suite. A couple of senior members of the Iranian and US delegations stay at Coburg while their foot-soldiers rough it in the neighbouring Marriott Hotel.
But even those diplomats who enjoy the luxury of the former palace were seen snacking on sandwiches bought from a nearby supermarket when talks continued late into the night, probably in an attempt to save on their taxpayers' money.
Last Sunday morning reporters staying at the neighbouring four-star Marriott were surprised to see Secretary Kerry around the breakfast table casually picking his food while bodyguards were a few metres away looking on.
He watched the World Cup final the same night in the lobby bar with dozens of other guests of the hotel.
'Diplomatic nightlife'
Although based in a smart neighbourhood of Vienna with exciting enough nightlife offerings, the Iranian delegation, their foreign minister and scores of Iranian journalists chose to observe a religious ceremony on Wednesday night and were all bussed into the Islamic Centre of Vienna to mourn the martyrdom of the first Shia imam 10 centuries ago.
Security is almost airport-standard and sometimes rough. Badges are to be worn at all times and reporters are banned from leaving the ground floor bar except for the times when they are occasionally escorted to a bilateral meeting to take photos.
And surprisingly all sides have adhered to a commitment not to leak any details of the talks, so that the negotiations take place only in the meetings rooms and not on the front pages of newspapers, making the job of the reporters even more difficult.
Foreign ministers of the UK, France and Germany joined their Iranian and American counterparts on Sunday in a push to make progress.
Outside scores of journalists reporting the meetings were kept behind barriers in a small plaza that, coincidently for the Iranian regime, Israel's archenemy, is named after the founding father of political Zionism Theodor Herzl.
Israel, some members of US Congress and Iranian hardliners are all utterly opposed to the deal.
Just this week Tehran was hosting Redlines, a seminar by a number of veterans of the Iran-Iraq war whose message was that a deal and the rapprochement that it could bring to Iran-US ties puts a nail in the coffin of revolutionary zeal in Iran.
The extension of nuclear talks is good news and bad. It is a sign that diplomacy still has a chance, but in the extra time given its opponents also have a chance to score.