Syrian activists remain in prison 'despite amnesty'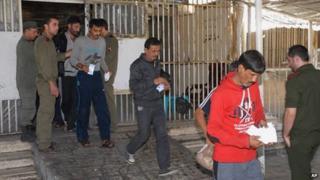 Many activists in Syria remain in detention despite an amnesty declared last month, a group of 12 human rights and civil society groups has said.
In a statement, the groups demanded the release of activists being "arbitrarily held" for "legitimate activities".
They said independent monitors should be allowed into detention centres.
Syrian activists say tens of thousands of people, including women and children, are being held in "terrible" conditions by the government.
The statement issued by the groups - which include Human Rights Watch and Amnesty International - said that if they are not freed "this general amnesty will end up being yet another false promise, with released detainees soon replaced by other peaceful activists locked up".
The organisations note that many activists have been held despite seven previous amnesty decrees issued since 2011, although last month's amnesty was the first to cover those convicted of "freedom of expression-related offenses".
Torture allegations
The amnesty was announced shortly after President Bashar al-Assad won re-election last month in a poll dismissed by the opposition and those living in rebel-held areas as fraudulent.
The 12 groups quoted a lawyer working with political detainees in Damascus as saying no more than 1,300 individuals, including regular criminal detainees, had been released.
He added that judges had sent the files of some detainees who ought to have been released under the amnesty back to the public prosecutor to change the charges to ones that would fall outside the scope of the amnesty.
Earlier this year, a report by three former war-crimes prosecutors said there was evidence that Syria had systematically tortured and executed about 11,000 detainees since the start of the uprising.
Syria said the report had no credibility as it was commissioned by Qatar, which funds rebel groups.