Al-Jazeera's Peter Greste to appeal over Egypt conviction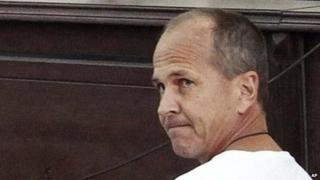 Jailed al-Jazeera journalist Peter Greste is to appeal against his conviction and seven-year jail term on terrorism-related charges in Egypt, his brother Mike has said in a statement.
It said that the family were "strong and confident" of a successful outcome and "determined to fight" its cause.
Mr Greste and two al-Jazeera colleagues were jailed in June for defaming Egypt and helping outlawed Islamists.
The case triggered an international outcry and demands for a pardon.
Mr Greste argued soon after his conviction that the prosecutor had "consistently failed to present a single piece of concrete evidence to support the outrageous allegations" against him and his co-defendants - Canadian-Egyptian Mohamed Fahmy and Egyptian national Baher Mohamed.
In a more recent statement released with Baher Mohammed, he said that he was so shocked after hearing the guilty verdicts that he felt "punch-drunk".
It is not clear whether Mr Greste's co-defendants are also appealing.
'Chaotic' trial
"At least part of our strength comes from the understanding that this isn't just about those wrongly convicted in our case. This is about press freedom, about freedom of speech not just in Egypt but globally," the statement released by the Greste family on Friday said.
Mr Greste and his two co-defendants were convicted of aiding the Muslim Brotherhood, a group designated as terrorists by the Egyptian government.
Egyptian President Abdel Fattah al-Sisi rapidly ruled out hopes that he might pardon the trio in the aftermath of the trial, a decision which Mr Greste's family said left them with no option but to try to win his freedom through the criminal justice appeal system.
"Today we wish to announce we intend to appeal the verdict through the formal channels offered by the Egyptian legal system," Mike Greste said in Brisbane.
"It wasn't a decision that was made lightly."
Correspondents say such an appeal could take months to work its way through the ranks of the Egyptian judiciary.
---
Al-Jazeera trial
Defendants included al-Jazeera's Cairo bureau chief, Mohamed Fahmy, who is Canadian-Egyptian, Egyptian producer Baher Mohamed and Australian correspondent Peter Greste
They denied charges of spreading false news and supporting the Muslim Brotherhood
The three men were seized in a raid at a Cairo hotel on 29 December and have been held at Cairo's Tora prison
The court tried a total of 20 people, including nine al-Jazeera employees
Who are the al-Jazeera journalists on trial in Egypt?
---
Hundreds of journalists gathered in London last month and other cities on Tuesday to protest against the imprisonment of the trio.
The White House said at the time that jailing journalists because their reporting did not fit the government "narrative" was "a blow to democratic progress in Egypt".
Australia has said it will work to secure the release of Mr Greste, an Australian national and former BBC correspondent.