Israeli and Palestinian women on Gaza conflict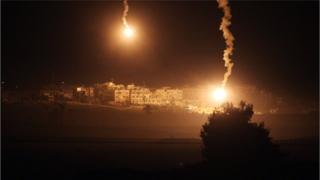 Over two weeks into the conflict between Israel and Palestinian militants in Gaza, and with the number of deaths rising on each side, further attempts are being made to secure a ceasefire between Israel and Hamas.
US Secretary of State John Kerry has been in Cairo meeting Egypt's foreign minister and the UN secretary general but any plan must be approved by Israel's security cabinet and senior Hamas leaders.
More than 800 Palestinians have died - most of them civilians, the UN says. On the Israeli side, 34 soldiers and two civilians have been killed, along with one Thai worker.
Two women living with the conflict, one in Israel and one in Gaza, have described the effect of the continued violence on their lives and their thoughts on the possibilities of a ceasefire.
Judy Neeman, living between Jerusalem and Mazkeret Batya in Israel
Israel hasn't just an offence but a defence. Every house in the last 25 years has a security room. When the sirens go off, we rush to that room and if a rocket falls on the house, as they do, we are protected.
Today at lunchtime there was an alert and I rushed with my three-year-old granddaughter to the room. We heard the boom when the rocket hit the Iron Dome. Here we have a minute to get there, but in other places people have 15 to 30 seconds.
There are things we are told to do when we are outside. My husband was out this morning and there was an alert. He parked the car, got out and lay on the ground with his hands over his head, trying to avoid the shrapnel that would land when the rocket hit the Iron Dome.
If we didn't have the Iron Dome, Israel would be in ruins, much like Gaza is, as some days we get over 100 missiles.
We've had two humanitarian ceasefires of five hours and Hamas broke both. A ceasefire is possible if both sides want it.
Militarily, Israel is in the process of trying to blow up the tunnels into Israel. If they are not blown up it'll lead to more violence. My family and I feel there should not be a ceasefire until the tunnels are annihilated.
We have been here before when both sides have been forced into a ceasefire. It lasts a year or so until Hamas have re-armed and then it all starts over.
Better than a ceasefire would be a political understanding that they are done and we are done.
But the foundation for Hamas is the destruction of Israel.
So will we get a political understanding? I doubt it.
Maram Habis Whedee, living in Gaza
I am 22 years old and work and live in the Gaza Strip and the situation here in Gaza is getting worse every minute.
We are struggling to get our simple rights back and every day we are burying children, women and men.
Israel's military are targeting mosques, schools, empty homes and even hospitals. What kind of crimes are they making?
Children have been killed while they are playing on the beach. Children have been killed while under protection at UN schools.
My own home is not safe. We are facing danger even while we are with our parents. We don't have any guarantee for our lives.
The violence, if it wasn't physical, then will be mental - we are all affected by this war.
I saw dead people with no arms, heads, legs and even eyes, blood everywhere - on streets, walls, homes, schools - so I am completely affected.
Unfortunately the ceasefire is not impossible. It's all about giving us what we really need to be normal humans and, if Israel agrees, then we will get an end to this.
But if not, the situation will become worse and worse.
We want our rights to be accepted, to be treated like normal people
I want the whole world to see what crimes Israel has made in Shejaiya, Khan Younis and Gaza City to see the truth of our suffering.