Gaza: Mapping the human cost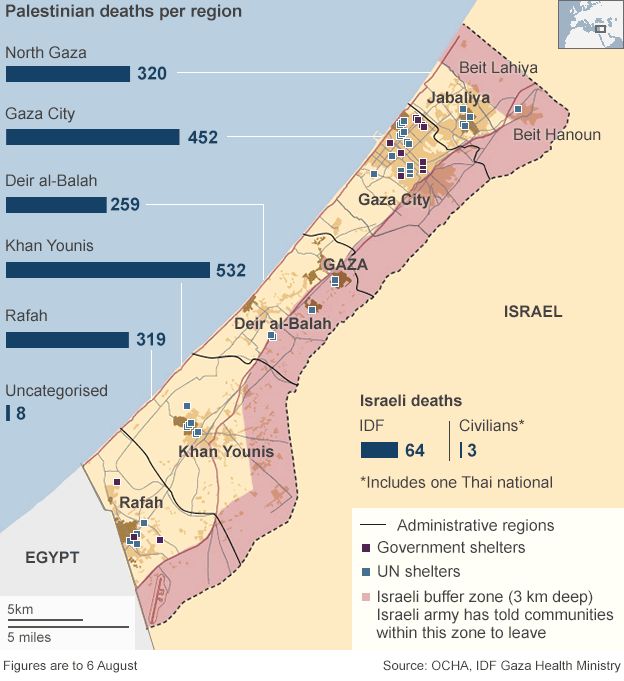 More than 1,800 Palestinians have been killed and almost 200,000 remain in temporary shelters following Israel's Operation Protective Edge, launched in Gaza on 8 July.
Some 66 Israelis - all but two of them soldiers - have also died in the operation to combat thousands of rocket strikes on Israel by the militant Islamist group Hamas.
The conflict intensified on 17 July when ground troops from the Israel Defense Forces (IDF) entered Gaza to destroy the tunnels which are used to launch attacks on Israel.
The Palestinian fatalities, most of them civilian, have been spread across the densely-populated Gaza Strip, all parts of which are affected by the conflict.
The northern town of Beit Hanoun now lies completely within a three-kilometre "buffer zone", enforced by the Israeli military.
Israel dropped leaflets telling people to leave their homes and many took refuge in shelters run by the United Nations, including schools.
Satellite images taken 19 days apart show buildings destroyed and damaged, elsewhere in Beit Hanoun.
Further south, another shelling of a UN-run school shelter, again killing 15, received international condemnation with the White House calling it "totally unacceptable and totally indefensible".
The school in the Jabaliya refugee camp was hit in the early hours of 30 July as families slept.
The UN Relief and Works Agency (Unrwa) said Israel had been given the co-ordinates of the school 17 times with the message that it was housing displaced people.
The Israeli military said in a statement that its forces had been responding to mortar fire by militants. They are investigating the incident.
The densely-populated Gaza City has been a focus of intense shelling as Israeli troops target the source of Hamas rocket attacks.
Israel says it was targeting "Hamas terrorist operatives" and the boys' deaths were "a tragic outcome" which would be investigated.
According to Israel, Hamas deliberately hides weapons and rocket launch sites in and around homes, hospitals and mosques, putting civilians at risk.
UN staff have discovered rockets hidden in three of their installations and Unrwa has received reports of armed groups launching attacks from near humanitarian facilities.
In the suburb of Shejaiya, seven IDF soldiers were killed in a single attack on their armoured vehicle.
Gaza City receives approximately two hours of electricity per day and, like the rest of Gaza, is struggling to get enough water for its population of more than 1.8 million people.
A key aim of the Israeli operation is to destroy tunnels dug under Gaza which are used to attack troops and towns in Israel.
Five IDF soldiers were killed on 28 July when they were attacked by militants who had entered Israel through one tunnel.
The Israel Defense Forces say they have identified more than 30 such tunnels and the Prime Minister Benjamin Netanyahu said that the offensive would not stop until they had been destroyed.
The IDF issued a map of six tunnels (above) which it said had been found leading into Israel from the Gaza City suburb of Shejaiya.
Tunnel entrances are often sited in homes or near to mosques, hospitals and schools, say the IDF.
The region of Deir al-Balah is home to Gaza's sole power plant, which was hit by shelling on 29 July and has remained out of operation since.
This has had "an immediate effect on the public health situation," according to UN agencies on the ground.
Water and sanitation services, which depend on mains power, have been reduced and hospitals are having to rely more on generator power.
Israel has denied targeting the plant.
The southern city of Khan Younis was one of the first locations to be hit by air strikes in the early days of the current operation, in response to rockets fired at Israel. The death toll in the city has continued to mount.
On 29 July, the UN says, a four-storey apartment building was hit in an IDF airstrike, reportedly killing and injuring almost all members of five families living there.
Israel says buildings it targets are the homes of militants, weapons storage sites and command and control centres.
Rescue teams recovered 35 dead bodies and 27 wounded people from under the rubble of the building and the neighbouring houses.
Unrwa closed its food distribution centre in eastern Khan Younis "due to heightened insecurity".
The border crossing from Gaza into Egypt at Rafah, normally a lifeline for Gazans, has been virtually closed for a year.
Lifting the blockade and re-opening the crossing is one of the main demands from Hamas.
Some injured Palestinians were allowed through the crossing, including 13 on 31 July, and a limited number of trucks carrying food supplies have entered Gaza.
However, with Rafah town a key site for Hamas militants sending rockets into southern Israel, fighting in the area was intense.
At least 10 people were killed in a strike near a UN-run school sheltering Palestinians on 3 August.
The attack, which hit the entrance of the facility, was described as a "moral outrage and a criminal act" by UN Secretary General Ban Ki-moon.
Israel denied firing into the school but said it was targeting militants on a motorbike.
Meanwhile, the Israeli military confirmed the death of one of its officers, who had been feared captured by militants near Rafah. The funeral of 23-year-old Hadar Goldin, who went missing on Friday, was held on Sunday.