Lebanese soldiers die as Syria rebels raid border town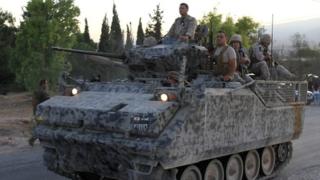 Eight Lebanese soldiers have been killed in clashes with Syrian rebels who raided the border town of Arsal in Lebanon on Saturday.
The fighting broke out on Saturday after Lebanese soldiers detained an alleged member of the Syrian Islamist group Nusra Front.
On Sunday morning, the fighting was continuing in the mainly Sunni town.
The area has been the scene of regular tension between the Lebanese army and Syrian militias.
Throughout the night, troops battled the gunmen who fired mortar shells at Arsal and the surrounding region, the Lebanese army said.
At least two Lebanese civilians were also reported to have been killed in the clashes.
On Saturday, the Syrian fighters briefly seized a police station in the town, which is home to thousands of refugees from the war in Syria.
A Nusra Front spokesman told Reuters news agency they were demanding the release of a leader, Emad Jumaa, after he was arrested at a checkpoint near the town.
The Nusra Front, al-Qaeda's Syrian affiliate, has been fighting along with other rebel groups against the Syrian government.
Lebanon - with a population of about five million - now hosts more than a million Syrian refugees.