Gaza conflict: Israeli partial ceasefire slows violence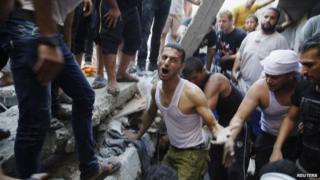 Israel's "humanitarian window" for parts of Gaza has ended, having slowed violence over its seven-hour period.
Israel had said the truce would not apply to Rafah in the south and its troops would respond if attacked.
Palestinian officials said Israel broke the truce shortly after it began, hitting a house in Gaza City.
In Jerusalem, Israeli police said a Palestinian construction vehicle driver was shot dead after an attack on a bus that killed an Israeli passer-by.
Israeli media later said one person - reportedly a soldier - had been seriously injured in a suspected drive-by shooting in Jerusalem's Mt Scopus area.
As the truce ended, Israeli PM Benjamin Netanyahu issued a statement vowing to continue operations in Gaza until calm was restored.
Tunnels
The truce followed an attack near a UN-run school in Gaza on Sunday that sparked international outrage. Palestinian officials said at least 10 people died.
Earlier, the Israel Defense Forces (IDF) confirmed that they had begun withdrawing some troops from Gaza, saying they were "extremely close" to completing their mission to destroy a network of tunnels.
Health officials in Gaza say 1,800 Palestinians, most of them civilians, have been killed and more than 9,000 injured since the conflict began nearly four weeks ago.
Sixty-seven Israelis have died, all but three of them soldiers. A Thai national working in Israel was also killed.
---
Martin Patience, BBC News, Gaza
Previous ceasefires and truces have all come and gone in Gaza. Most have crumbled within a matter of hours. And while Israel has announced a "humanitarian window", nobody here has any faith in it.
Israel says that it will continue its military operations close to the southern town of Rafah. Just minutes after the ceasefire got under way, Palestinians say Israel carried out in airstrike inside Gaza city - an area that was supposed to be covered by the truce.
We heard the explosion at our Gaza bureau. A BBC team saw a house that had been destroyed - locals say that at least one person died and others were injured in the attack. There's yet to be any word from the Israeli military. But it's for this reason that Palestinians say that no place in Gaza is safe - ceasefire or not.
---
Bethany Bell, BBC News, Jerusalem
The news that the Israeli army has redeployed some of its troops along the Gaza border and announced a partial humanitarian ceasefire for a few hours, has prompted some speculation that it may be trying to wind down the military operation unilaterally, without an agreed ceasefire with Hamas.
But it is by no means clear that an end to the fighting is in sight. The offensive around Rafah, near the Egyptian border, continues, possibly to try to make it harder for Hamas to re-arm in future. And the army may be searching for more cross border tunnels that it has not yet identified.
There is intense international pressure on Israel to negotiate a long-term ceasefire. For now, Israel appears to be ignoring those calls, but it hasn't ruled out a possible diplomatic solution.
---
Violation of truce?
Hamas responded to the truce with suspicion, accusing the IDF of trying to "divert the attention from Israeli massacres".
Palestinian health officials said Israel carried out an air strike on a refugee camp inside Gaza City just minutes after the ceasefire began.
BBC correspondents there said they heard the explosion and saw a house that had been destroyed in the attack.
Reports suggest the strike killed a young girl and injured at least 15 others, many of them women and children.
Israel's temporary ceasefire - aimed at allowing Palestinians to return to their homes - did not include Rafah because there was an "Israeli military presence" there and "clashes were still ongoing", the IDF said.
The truce began at 10:00 local time (07:00 GMT) and ended at 17:00 (14:00 GMT).
In attacks before the truce came into effect, an Islamic Jihad commander in northern Gaza, Daniel Mansour, was killed when his home was hit.
In Jerusalem, a construction vehicle driven by a man, identified by police as a Palestinian from east Jerusalem, overturned a bus in an ultra-Orthodox neighbourhood.
A passer-by was killed and several people were injured before police shot dead the driver.
Israeli media also reported that dozens of rockets had been fired from Gaza on Monday.
'Disgraceful shelling'
More than a quarter of the 1.8 million residents in the Palestinian territory have been displaced in the most recent hostilities.
Many of those who have fled their homes have taken refuge in UN shelters across Gaza, including the UN-run school in Rafah which was hit on Sunday.
The IDF said it had targeted three Islamist militants near the school.
UN chief Ban Ki-moon described the Israeli strike as "a criminal act" and the US said it was appalled by the "disgraceful shelling".
Mr Netanyahu said Israel was "sorry for any attack that unintentionally hits civilians", but accused Hamas of turning UN facilities into "terrorist hotspots".
The IDF says 2,560 rockets and mortars fired from Gaza have landed in Israel since 8 July, and that its Iron Dome defence system has intercepted another 556 rockets.